Reddit cofounder Alexis Ohanian and tennis star Serena Williams announce their engagement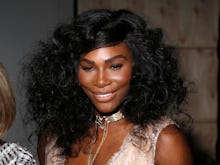 Serena Williams announced her engagement to Reddit cofounder Alexis Ohanian on Thursday in a poem on a subreddit called "I Said Yes." Naturally.
"I came home
A little late
Someone had a bag packed for me
And a carriage awaited
Destination: Rome
To escort me to my very own 'charming'
Back to where our stars first collided
And now it was full circle
At the same table we first met by chance
This time he made it not by chance
But by choice
Down on one knee
He said 4 words
And
The post also includes a fun illustration of Williams and Ohanian as Reddit aliens. What a time to be r/alive!
The announcement calls to mind the reveal of Snapchat founder CEO Evan Spiegel's engagement to model Miranda Kerr — Kerr shared a screenshot of custom Bitmoji versions of the happy couple's proposal.
If a tech leader gets engaged and doesn't announce it on his or her platform, did it really happen?