9 times the Kardashian-Jenner family were accused of cultural appropriation in 2016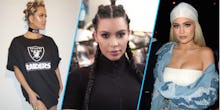 In 2016, the Kardashian-Jenner family loved appropriating cultures that are not their own more than Britney Spears loved sleeveless turtlenecks in the '90s, more than Ina Garten loves Jeffrey and perhaps even more than Donald Trump loves exclamation points. 
They might have even loved cultural appropriation more than Kanye West loves Kanye West. 
Although we continuously tried to inform them of why them wearing cornrows and dreadlocks as an accessory is offensive to some people, they just keep on doing it.
So here are the nine times Kardashian-Jenner family members — who are mainly just Khloé Kardashian, Kim Kardashian and Kylie Jenner — culturally appropriated this year. Cuz the family who culturally appropriates together, stays together... we guess. 
January: Khloé Kardashian wear cornrows 
We couldn't even make it one month into 2016. In January, Khloé Kardashian posted an Instagram of herself with her dyed blonde hair braided into cornrows. 
"You gettin mad. I'm gettin rich," she captioned the image, quoting 2 Chainz.
And to think, this was just the beginning. 
February: Kylie Jenner wears a Yaki ponytail to NYFW
To Alexander Wang's show at New York Fashion Week in February, Kylie Jenner showed up with a ponytail made of Yaki, a type of hair typically used for braiding that's especially popular among black woman, who use it to add length to their own braids. 
But of course, the problem here is that Jenner is not a black woman — but a white one. And so her using Yaki hair makes... no sense at all, since it does not match her hair's texture. 
As Refinery29 wrote: "Black women the world over know that Yaki is sold in bundles at beauty supply stores for the express purpose of adding length to our braids. Higher grades of Yaki are sold to add length to weaves, but these aren't like the Remi extensions Jenner generally wears. Yaki hair is meant to mimic relaxed African American hair." 
She could have used the kind of hair extensions that many white women in Hollywood do, but no, she chose Yaki. 
March: Kim Kardashian West gives fans a cornrow tutorial
In March, on Kim Kardashian West's website KimKardashianWest.com, she posted a hair tutorial to show her fans how she achieves perfectly straight cornrows, which she actually called "KKW Signature Braids." 
In the how-to video, a hair stylist braids four braids along her scalp, has the ends meet in two long tails at the nape of the neck and the end result looks identical to cornrows. But in Kardashian West's world, they're her signature braids — not cornrows. 
And on Twitter, that was a problem. 
Because, after all, what Kardashian West was actually doing, whether she knew it or not, was erasing the idea that cornrows even exist at all, and replacing it with this idea that she was a part of some innovative, new trend. 
As Mic's Jamilah King wrote: "Sure, Kardashian West is a style icon, but the problem at hand is the same as it always is when it comes to appropriation: not giving credit where it's due. Or, in this case, giving too much credit where it's not due. Cornrows — or variations of them — are one of the oldest black hairstyles around, and black celebrities have been rocking them for decades." 
June: Kylie Jenner wears cornrows
In June, Kylie Jenner slipped on a beige bikini, pouted her lips and with her hair braided into cornrows and snapped a pic. "This is cute," she could have thought. 
But no, not it was not.  
At that point, Jenner had been called out twice for wearing cornrows with no explanation before, and here she was again, pouty-lipped with her hair in long, straight braids, almost begging Twitter to clap back, which it did almost immediately. 
And if you think Jenner must have learned her lesson about cornrows back in June. Hah, then you don't really know the Kardashian-Jenner family, do you? 
August: Kim Kardashian West wears cornrows... again 
In 2016, Kim Kardashian West, despite having a hair stylist capable of creating any hairstyle imaginable for her, still seemed super dedicated to cornrows. 
In August, Kardashian West took to Snapchat to show off her long cornrows yet again, which she wore with little rings attached. 
And although it didn't cause nearly as much uproar as before (probably because it was hidden on her Snapchat), it's still yet another example of the family's overall affection to appropriating this specific look. 
Why? Well, we'll probably never know. 
August: Khloé Kardashian tries on bantu knots 
Then, a few days later in August, Khloé Kardashian thought it'd be fun to post a picture of herself with her hair in bunches, known as bantu knots. "Bantu babe," she originally captioned the picture on Twitter.
And people were pissed yet again. 
Although she later edited the caption on Twitter out, and on Instagram, chose to caption the picture instead: "I like this one better," the deed had been done. Kardashian, much like her sisters have done numerous times before this and since, was wearing a hairstyle created by black people and yet, as a non-black person, wasn't giving credit to the style's origin, or the people who may have created it.
"I saw that 'Bantu Babe' nonsense before she deleted it," Michael Arceneaux, author of a recent Complex article titled "No, We Aren't Overreacting to Cultural Appropriation," said in an interview with Mic at the time. "My thing with them is at this point, it's just like trolling black people. White girls should at least acknowledge where they get it from. None of those Kardashians ever have. Ever. Ever." 
What made Kardashian's statement at the time even more irksome is that it came mere minutes (minutes!) before Kardashian's own half-sister, Kylie Jenner, did something similar as well. 
August: Kylie Kardashian wears cornrows... again
Believe it or not, just a few minutes after Khloé posted a picture of herself with bantu knots, Kylie Jenner posted an Instagram of herself with her red hair braided into cornrows, rounding out the Kardashian-Jenner family's obsession with appropriation this August. 
It sent Twitter into a tizzy. 
"In the case of the Kardashians, now that they're wearing the cornrows, I personally think it's more of a cultural appropriation," Rajni Jacques, an editorial creative director, said in an interview with Mic. "I feel like it takes away from people who have always done this. That was who we are as a people, and that is part of our culture. You can't just erase what it was. It's forgetting what it came from." 
So it's not just Jenner wearing continuously cornrows that's bothersome, it's the fact that neither she nor anyone in that family has explicitly talked about the importance and history of the style in black communities. Instead, they remain silent. 
September: Kylie Jenner wears a du-rag to New York Fashion Week 
Le sigh. And again, just one month after those cornrows, Jenner showed up to New York Fashion Week wearing a white du-rag. She paired it with a white tube top, skirt and an oversized, bedazzled denim jacket. 
As per usual, Twitter was not stoked about this one, noting that Jenner is basically wearing black culture like it's a costume. 
And, as per usual, Jenner never gave an explanation for wearing it. It was just another accessory for her. 
November: Khloé Kardashian wears Marc Jacobs' dreadlock wig 
At this point, you've just got to think that this family knows what it's doing. In November, Khloé Kardashian published a blogpost on her website titled "I try out Spring '17 Runway looks," and in that post, she is shown wearing the same fake, pastel rainbow dreadlocks that Marc Jacobs had his models wear while walking down the runway at NYFW in September — sparking outrage. 
So this wasn't just Kardashian wearing fake dreadlocks, which is offensive enough. This was Kardashian wearing the same fake dreadlocks that had already been called out for being offensive. The same dreadlocks that Marc Jacobs himself had to apologize for using. 
"I absolutely despise this on me! I think dreads are really cool but the rainbow combined with the dreads is just too much on me," she wrote in the post. 
And yeah, the internet thought so too. 
After this year of the Kardashian-Jenner family appropriating cultures that are not their own, you'd think we'd deserve a reprieve in 2017. But if we've learned anything this year, it's this: Be prepared for the worst.