Who's performing on New Year's Eve 2017? Full list of NYE performances and musical guests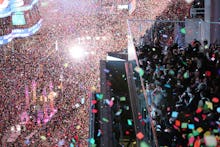 For most living, breathing American citizens, New Year's Eve could not come sooner. This year has behaved like that drunk uncle — the sort everyone knows even if few actually have — who won't stop using racial slurs and talking about buddies who died in Saigon. 2017 is bound to come with its own share of celebrity deaths, political tumult and assorted cultural disappointments. But at least for one night, on New Year's Eve, we can try to look to the future with hope. The TV will help.
One arena where 2016 did actually deliver was music. The year's musical offerings have equalled and opposed the tragedies of the year with aplomb. Some of these artist will be bringing their acts to television this New Year's Eve to help remind viewers that there is still goodness in this world — even if it's only expressing itself musically. 
Here's where and when you can catch the best of it as 2016 takes its last breath.
Air time: 11:30 p.m. Eastern
Performers: Alicia Keys, Jennifer Lopez, Pentatonix and Blake Shelton
What to watch for: The show's headlining performer, Alicia Keys, is coming off a career-defining year in which she released her most personal and political album to date, November's Here. Expect her to offer renditions of some of its standout moments, including "Blended Family" and her urgent plea for peace, "Holy War."
Air time: 8 p.m. Eastern
Performers: Mariah Carey, Gloria Estefan, DNCE and Thomas Rhett (from Times Square); Demi Lovato (from St. Marteen); Jason Derulo, Panic! at the Disco (from New Orleans); Lionel Richie (from Las Vegas); Fergie, Alessia Cara, G-Eazy featuring Bebe Rexha, Flo Rida featuring Macy Kate, Martin Garrix also with Bebe Rexha, John Legend, Mike Posner and Hailee Steinfeld, Fifth Harmony featuring Kid Ink and Ty Dolla $ign, Niall Horan, Lukas Graham, Shawn Mendes and Emeli Sande (all from the Billboard Hollywood Party)
What to watch for: Dick Clark's New Year's Rockin' Eve is the biggest New Year's performance there is. Its main event performances will take place in Times Square, New York City, but to fill up the other five-and-a-half-hour telecast, ABC will broadcast performances from Los Angeles, Las Vegas, New Orleans and St. Marteen. 
Their headliner, so to speak, is Mariah Carey, and while she may not be able to hit her whistling high notes with the same effortless grace as she once could, that doesn't mean her performances are any less enjoyable. If anything, she's doubled down on the larger-than-life glamour of her Hollywood lifestyle for an even more lavish stage set. No doubt she'll pull out all the stops for her performance, which is set to begin just before the ball drops.
Air time: 11 p.m. Eastern
Performers: Pitbull, Biz Markie, Salt-N-Pepa, Coolio, Tone Loc, Rob Base, Young MC and Naughty By Nature
What to watch for: Mr. Worldwide is going old-school for his third annual New Year's Revolution party. He's tapped some of hip-hop's OG's, including Biz Markie, Salt-N-Pepa and Naughty By Nature. Better dig up your varsity leathers and parachute pants for what's sure to be a night of nostalgic joy.
Air time: 10 p.m. Eastern
Performers: Nicki Minaj, Meek Mill, Rae Sremmurd, Tinashe and Dej Loaf
What to watch for: BET is doing things a little different this year, choosing to air a single concert from hip-hop's queen Nicki Minaj, instead of cobbling together a glitzy variety hour. Despite the word "live" in the program's title, the show is a prerecorded special of her stop at Barclay's center earlier this year. Whether or not all her opening acts listed above will appear remains to be seen.
Air time: 9 p.m. Eastern
Performers: Keith Urban (from Nashville)
What to watch for: As with ABC's broadcast of New Year's Rockin' Eve, CNN's quirky duo of Anderson Cooper and Kathy Griffin will be based in New York City's Times Square with special remote performances beamed in from other parts of the country. CNN's ace in the hole is Keith Urban, who will be performing live at Nashville's Music City Midnight concert alongside Styx, Moon Taxi, A Thousand Horses and Charlie Worsham. 
This year, Urban released his ninth studio album, Ripcord, featuring the most down-home country song title the genre has likely ever seen: "John Cougar, John Deere, John 3:16." Get ready for the country legend to take the nation back to basics while the rest of the night's performers aim for the extravagant.