Who is Alexis Ohanian, and why does he think he's worthy of Queen Serena Williams?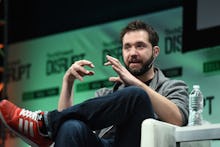 It's official: Tennis star Serena Williams and reddit co-founder Alexis Ohanian are engaged. Williams announced the engagement on Thursday via reddit, of course, in the form of a poem. Meanwhile, Ohanian confirmed the news on his Facebook account.
Williams is widely considered the greatest tennis player in history — and a feminist hero to boot. But who is her new fiancé? Here's what you need to know about Ohanian.
He's one of the brains behind Reddit  
Ohanian is the co-founder of reddit, the social news aggregation and discussion website. 
That's not all: Ohanian co-founded the venture capital firm Initialized Capital, helped launch the travel search website Hipmunk and was involved in the creation of Breadpig, which raises money for novelty items. 
He's of Armenian descent 
Ohanian's father, Chris Ohanian, was an Armenian-American whose ancestors were survivors of the 1915 Armenian Genocide. 
"Being Armenian means triumph for me," Ohanian said in 100 Lives, an initiative that celebrates the achievements of individuals of Armenian origin. "Every one of us who succeeds is a triumph in the face of genocide." 
He's been dubbed the "internet's own cheerleader"
A profile by the New York Times highlighted Ohanian's work as a "relentless cheerleader of the utopian promise of the internet."  
Ohanian's book, Without their Permission: How the 21st Century Will Be Made, not Managed, touches upon the importance of harnessing the internet's power for good — such as how it can create new communities and charities. 
He was a strong opponent of the Stop Online Piracy Act, proposed by Congress in 2011. He believed that such measure would have hurt the future of internet. The bill, in the end, was defeated. 
He's been dating Williams for over a year 
Williams and Ohanian began dating in October 2015, according to Us Weekly, at a time when our tennis goddess had been more-recently linked to Drake. In the days since, people were asking who he was — and why Williams would want to date him. 
"Let no one speculate that Williams is dating Ohanian for his money," Will Oremus wrote on Slate. Ohanian's net worth hovers around $4.5 million, Oremus added — "or approximately 3% of Williams' own." 
Correction: Jan. 17, 2016