Sanctuary Restaurants project aims to keep restaurant workers safe in Trump's America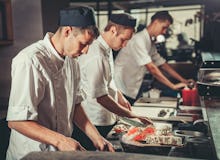 On Friday, several nonprofits launched an initiative called "Sanctuary Restaurants," formed to protect restaurant workers of all creeds, sexual orientation and immigration status from any policies from the incoming Trump administration which may threaten their wellbeing. 
A collaborative project between Restaurant Opportunities Centers United (ROC United) and social justice and Latinx organization Presente.org, Sanctuary Restaurants is a website that provides resources for restaurant workers, employers and consumers. 
More than 50 restaurant owners have enlisted to be members, spokespeople for Restaurant Sanctuary said in an email. This means they "do not allow harassment of any individual based on nationality, refugee status, race, religion, gender, gender identity or expression or sexual orientation," the site notes. Restaurants owners and staff can swap strategies for protecting workers from harassment, and they can display a placard that shows they're aligned with the initiative.
On the Restaurant Sanctuary website, workers can find information about what to do if an employer asks about immigration status or if they experience an immigration raid at home. There's also a hotline for workers or restaurants to get support if they encounter "hate, harassment or discrimination." Restaurant workers can print out a "My Rights Card" and physically present it to anyone who questions their rights. As of now, the resources on Sanctuary Restaurant are only available in English. 
It's not a bad idea to prepare for the worst: Before and after the presidential election, hateful harassment has surged on restaurant premises, Mic previously reported. President-elect Donald Trump's victory seemingly emboldened some restaurant patrons, and even some restaurant employees or owners, to act violently against certain groups — including Muslims, LGBTQ communities, women and immigrants. For example, in two different restaurants in New York City, a Trump supporter punched a woman in the face and a man sprayed pepper spray on a restaurant patron who called him racist. 
Plus, the Trump administration could potentially transform the restaurant industry if the President-elect enacts some of the immigration policies he posed during his campaign. Roughly 1.4 million restaurant workers are foreign-born, meaning they are legal or illegal immigrants, the New York Times reported, noting there could be a worker shortage if those workers are forced to leave the country. 
According to former chef and renowned TV host Anthony Bourdain, if President-elect Donald Trump follows through with his plan to deport illegal immigrants, the restaurant industry would be screwed.  "Every restaurant in America would shut down," he told SiriusXM's StandUP With Pete Dominick.
The restaurant industry is the largest employer of undocumented immigrants (1.3 million out of 12 million), largest employer of Muslims & Muslim immigrants, largest employer of LGBTQ workers, according to the Restaurant Sanctuary. "There have been many reports of staff being tense and terrified and some incidents of hate directed at workers based on their identity since the election," they said.
Why this kind of mission now? A representative for Sanctuary Restaurants said the organizers "felt they could not afford to wait or be silent given the current hostile atmosphere for people of color, immigrants, and LGBTQI members of the community."