How Cameron Dallas, Aaron Carpenter, Taylor Caniff and other social media stars make money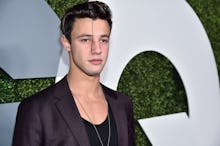 Netflix recently released Chasing Cameron, a documentary series about internet personality Cameron Dallas and his rise to fame. Often, celebrities use social media networks to showcase their stardom. Dallas and others like Aaron Carpenter and Taylor Caniff use social media as a platform to become a celebrity — and then maintain that status. 
Starting with his six-second Vine clips, Dallas went on to collect over 35 million followers across multiple social media networks. Such an enormous (and passionate) fanbase creates plenty of opportunities to capitalize financially. Dallas has since starred in a movie, launched a music career, developed into a style icon and, of course, landed his own TV show. 
All of those endeavors obviously generate money. "Social media star" is now a legitimate career path. But before the movie studios and record labels get involved, how do these Instagram celebs sustain themselves? How do they make money? Turns out there are several methods. 
Brand sponsorships
It's no secret companies use social media to promote their brands. There are sponsored Instagram posts, promoted tweets and all sorts of other content that is pushed out on social media platforms. Social media influencers can make money from brand deals if they have a large enough following. Especially if the account is geared toward millennials, who use social media frequently. 
For example, Liz Eswein, a 25-year-old who runs @NewYorkCity on Instagram, charges clients $1 per like, according to the Guardian. Some of her sponsored posts have received nearly 25,000 likes. With those numbers, it's easy to see how social media can not only be a profitable hobby, but a highly successful career.
Merchandise
If you've amassed a huge following and you're making money off of brand deals, why not expand the business with the sale of personal merchandise? Cameron Dallas, Aaron Carpenter and Taylor Caniff all have separate merchandise pages on their websites to sell branded clothing and accessories. The latter's site includes T-shirts, hats, phone cases, wristbands and even a fannypack.
With 5.69 million followers between Instagram and Twitter alone, not to mention a widespread fanbase across Snapchat, Vine, YouTube and Facebook, Caniff is capable of generating tons of revenue. The fans don't mind — it's a way for them to physically connect with their idols. 
Media appearances
The central event in Chasing Cameron is Magcon, or the Meet and Greet Convention. Dallas, Carpenter, Caniff and a number of other internet stars go on this tour to meet and connect with their fans. Tickets can go for over $100 and have been known to sell out in seconds. 
There are also similar events like DigiTour, SocialCon and Playlist Live. All of these expos sell tickets, and since the buyers are there to see the social media celebs, those influencers may get a chunk of the profits. 
The internet fame can also transition into other media gigs. Popular Vine star Brittany Furlan was asked to host the red carpet of the Daytime Emmys (though that didn't go so well) and social media stars continue to grow more relevant as they cross into the world of music and film. 
The concept of internet fame can seem absurd, but if anything, these numbers suggest that not only is it viable — but maybe the rest of us should reconsider our career paths.