Millions of kids grew up loving Debbie Reynolds and they may not have even known it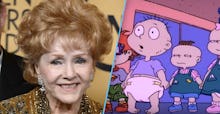 Fans around the world mourned the loss of Hollywood legend Debbie Reynolds after her death on Wednesday at the age of 84 — just a day after her daughter, actress Carrie Fisher, died on Tuesday at the age of 60.
Reynolds had a career that spanned almost seven decades, and was known for iconic performances in classic films like Singin' in the Rain and The Unsinkable Molly Brown — but Reynolds was also a voice actor, and she lent her voice to characters in some beloved children's movies and television shows. 
Nineties kids might be thrilled to learn that Reynolds has a recurring role as Rugrats' Lulu Pickles and also voiced the same character in Rugrats in Paris: The Movie. And one of Reynolds' most nostalgia-inducing voice-acting roles was as the titular spider in the 1973 cartoon film version of Charlotte's Web.
But Reynolds also voiced Nana Possible in the series Kim Possible, Mrs. Claus in 1998's Rudolph the Red-Nosed Reindeer: The Movie and Madame in the English-language version of Kiki's Delivery Service. She also guest-starred on an episode of Family Guy.
Countless fans grew up loving Reynolds for her roles on television and in films, but many more grew up knowing her voice — though perhaps not her name — through beloved cartoons.