Uber driver saves teen girl from sex trafficking — and describes it all on Facebook Live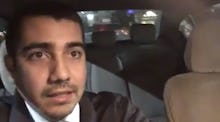 Keith Avila, an Uber driver in Sacremento, California, deserves way more than a five-star rating: On Monday, 34-year-old Avila saved a teenage passenger from sex trafficking, and then immediately hopped on Facebook live to describe the whole thing.
"Man I just saw some crazy stuff right now," Avila said in a Facebook live video he broadcasted on his page on Monday. "I picked up a group of three girls and they just started talking right in front of me ... I didn't know what was going on at first ... I started driving them and they started like, talking, saying like everything that was going on and like what they're doing is child sex trafficking."
According to NBC News, Avila said he picked up two women and a teenager and took them to a Holiday Inn in Elk Grove, California. On the ride, he realized the women were discussing bringing the teenager to a "John" in exchange for money, NBC News reported.
Avila reportedly called police as soon as he dropped the passengers off at the hotel. Chris Trim, an Elk Grove public information officer, told NBC News officers detained two women — Destiny Pettway, 25, and Maria Westley, 31, at the scene. Police later arrested the two and charged them with "pimping and pandering," NBC News reported.
The 16-year-old victim was found with a third person in a hotel room. Police told NBC News she "was discovered to be a runaway," and will stay in an "alternative housing situation" until her family is located. 
According to NBC News, Uber reached out to Avila to thank him for his "professionalism in a difficult situation."
Avila is a a first-generation Mexican-American who also works as a quinceañera photographer. He and his wife Guadalupe have a 6-year-old son. She told NBC Latino the incident in which Avila intervened has moved them to educate their child about the dangers of trafficking.
"[We] just want to take care of our son and educate him on the subject and to be aware of everyone around us because this kind of thing can happen to boys, not only girls," she told NBC Latino.