Milo Yiannopoulos raised $100,000 in charity for white boys. He still hasn't paid it out.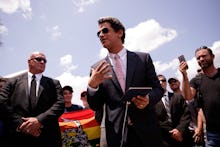 In January, alt-right media personality and Breitbart editor Milo Yiannopoulos said he would build a scholarship fund available only to "poor, young white men." The Yiannopoulos Privilege Grant, as it was called, occasioned a 5-hour telethon, and the right-wing provocateur raised over $100,000 for his cause.
The money, however, has disappeared down a rabbit hole of private bank accounts and apparent shell companies registered to the same address in London. Almost a year since the fund's launch, Yiannopoulos is, for his part, reacting in a manner consistent with previous concerns around the fund's handling: by claiming paperwork for the fund is being processed and that the money will be disbursed at a later date.
Questions about the handling of funds for the grant program first arose in August, when Margaret MacLennan, a conservative commentator whom Yiannopoulos initially brought on to direct the fund, started tweeting accusations that the money was unaccounted for. She said at the time that donors should demand an explanation for why initial plans to award scholarships in 2016 never materialized.
After the allegations, Yiannopoulos told the Daily Beast he would be filing paperwork to establish the Privilege Grant as a 501(c)(3) nonprofit, adding that there'd be 100 grants of $2,500 given to white men in need. According to the Privilege Grant website, a pilot program was meant to begin in the spring 2017 semester.
"We're going to make sure we have monthly updates on our website, and we're going to start using our long-neglected Twitter account," Colin Madine, the freshly minted administrative lead for the Privilege Grant, said in an interview published on Yiannopoulos' YouTube channel.
The spring pilots, however, haven't happened — with college tuition for the spring semester coming imminently due. The monthly updates never came. And paperwork wasn't filed in August — or the months that followed.
Then, on Monday, in the midst of a meltdown in the alt-right community over a pro-Trump party called Deplora-ball, MacLennan started tweeting new accusations. She alleged that Yiannopoulos had registered the grant to a shell company and that the money was still unaccounted for. Yiannopoulos, MacLennan alleged, had then later dissolved the shell company. Mic reached out to MacLennan, who didn't respond to multiple requests for comment.
There are three companies, registered publicly with the British government, that match the profile MacLennan briefly derived — none doing apparent business of any kind — all registered to the same London address.
These companies are: Caligula Limited, which was dissolved in May; Hipster Ventures Limited, which was dissolved in 2013; and Valhalla Medics Limited, a still-existing company where Yiannopoulos held the role of "secretary" until June, but is now directed by someone named Dr. Osman Ali.
Two other entities of note are registered to that address. One is Yiannopoulos' now-defunct media company, Sentinel Media, which shut down after facing a criminal investigation and controversy over Yiannopoulos' failure to pay thousands of pounds in wages owed to writers. The other is the private bank account where donors were instructed to wire funds for the Privilege Grant.
In an email to Mic on Wednesday, Yiannopoulos denied all accusations of wrongdoing and declined to provide further information about Ali or the purposes of the various companies registered to the London address.
"Osman Ali has nothing to do with the Grant," Yiannopoulos said. "Nor do any of the companies you mention. These are unsubstantiated allegations from someone with no access to relevant data."
But, after declining to answer many follow-up questions, Yiannopoulos issued new public promises. Within hours of the inquiry Wednesday, there was an announcement posted to the Privilege Grant's website saying, again, that the paperwork was being filed for nonprofit status with the support of an unnamed donor. Yiannopoulos didn't respond to requests for the paperwork itself — which tax-exempt nonprofits are legally obliged to provide — and a request to the IRS for the documents had not been filled by press time.
And again, the deadline of when the grants would go out was pushed back.
"We will open applications for our first grants to students in late January," Yiannopoulos wrote in the release. "We will close the applications after several weeks, and grants will be awarded in March."
If the pattern holds, expect those dates to be pushed back, too.