'Fifty Shades Darker' release date, trailer, cast and more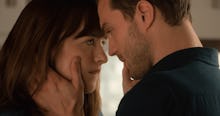 Based off the international best-seller of the same name, Fifty Shades of Grey took the box office by storm in 2015. The film opened to over $93 million domestically, at the time a record for the four-day Presidents' Day weekend (the record has since been obliterated by Deadpool). After finishing its box office run with over $570 million worldwide, it is not that shocking that anticipation is rather high for the sequel, Fifty Shades Darker. 
While Fifty Shades of Grey received generally negative reviews from both critics and users at Rotten Tomatoes — often a death sentence for franchises — Fifty Shades Darker's initial trailer became the most viewed trailer ever in the first 24 hours of release, with 114 million views (that record has since been broken several times as well). It is clear that goodwill toward E.L. James' book series appears to be trumping the negative reaction to the first film in the franchise. 
So whether you are trying to plan your Valentine's Day early, are excited to hear Taylor Swift's song in the sequel or are just super-ready for Fifty Shades Darker, we have all the information you need to know regarding the film right here.
Fifty Shades Darker's release date
Fifty Shades Darker will hit theaters just in time for Valentine's Day 2017. The film will be released wide on Friday, Feb. 10, with Valentine's Day coming the following Tuesday. For those who are extremely excited, tickets are already on sale here. 
Fifty Shades Darker's cast and crew
Fifty Shades Darker will see the return of Dakota Johnson and Jamie Dornan as Anastasia Steele and Christian Grey, respectively, from Fifty Shades of Grey. The cast also includes Kim Basinger, Luke Grimes, Eloise Mumford, Eric Johnson, Bella Heathcote and Marcia Gay Harden, among others. Fifty Shades Darker is directed by James Foley from a screenplay by Niall Leonard, and is based off the book of the same name by E.L. James. 
Fifty Shades Darker's synopsis
The official synopsis from Fifty Shades Darker's website reads as follows: 
"When a wounded Christian Grey tries to entice a cautious Anastasia Steele back into his life, she demands a new arrangement before she will give him another chance. As the two begin to build trust and find stability, shadowy figures from Christian's past start to circle them, determined to destroy their hopes for a future together."
Fifty Shades Darker's Trailer
You can check out Fifty Shades Darker's record-breaking trailer below:
Mic has ongoing coverage of the Fifty Shades of Grey franchise. Please follow our main Fifty Shades of Grey hub here.