Vladimir Putin won't retaliate against sanctions, says Trump will restore US-Russia ties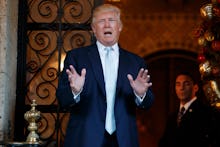 Russian President Vladimir Putin said on Friday that his country won't retaliate against the United States for the sanctions President Barack Obama imposed on Russia for its alleged role in cyberattacks against Democrats in the 2016 election.
Russia had floated responding in kind, saying it was mulling expelling 35 American diplomats living in Russia — the same number of Russian diplomats Obama kicked out of the U.S. on Thursday.
But instead, Putin said his country wouldn't fight back, saying instead that Russia will wait for President-elect Donald Trump to take office to restore relations between the two nations.
"We will not stoop to the level of 'kitchen' irresponsible diplomacy," Putin said in a statement. "Further steps toward the restoration of Russian-American relations will be built on the basis of the policy, which will be carried out by the administration of President D. Trump."
Trump, for his part, has consistently doubted Russia's involvement in the cyberattacks against Democrats in the election.
"It's time for our country to move on to bigger and better things," Trump said Thursday in response to Obama's sanctions.
Trump added, however, that he will be briefed on what U.S. intelligence officials know about Russia's alleged meddling.
Once he takes office, Trump could decide to lift the sanctions, despite the fact that members of his own party, including GOP House Speaker Paul Ryan, support Obama's actions. 
Critics of both Trump and Russia say Putin's decision not to retaliate stems from the fact that Russia expects Trump to lift Obama's sanctions.