'The Bachelor' 2017 predictions: Which contestants are most likely to succeed?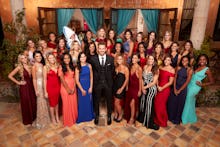 The season premiere of The Bachelor is coming! Come Monday night, we'll be settling in for another season of watching beautiful women who would all be catches in a real-life dating pool compete for the same man: Nick Viall, who has been on different iterations of the Bachelor franchise three times already.
To celebrate the coming festivities, Mic's Bachelor team — senior Arts writer Kevin O'Keeffe, News editor Jordyn Taylor and News writer Anna Swartz, as well as guest contributor and senior Arts editor Amanda Buckle — have gone through the bios and photos of Viall's potential lifelong loves and awarded some superlatives. Which woman is most likely to show up in a costume the first night? Which girl's favorite gift was a promise ring? Let's find out.
Kristina
Most likely to: Be forced into a group date cruelly designed to evoke memories of her tragic past
Kristina says she admires her parents most because "It takes courage to open your heart and home to four orphans and give them a life otherwise unobtainable." You just know they're going to visit an orphanage somewhere on their international journey to find love. —Jordyn Taylor
Rachel
Most likely to: Be way too smart to be on this god-awful show
This girl is an attorney who loves Michelle Obama and Jean-Michel Basquiat. That's all. —Jordyn Taylor
Literally 5% of the Bachelor viewing audience knows who Jean-Michel Basquiat was. I'm probably being generous. —Kevin O'Keeffe
Alexis
Most likely to: Show up in a costume on the first night
Alexis is an aspiring dolphin trainer, which means she's showing up as a dolphin on night one, ultimately bringing shame upon Nick, herself and the aspiring dolphin-trainer community at large. —Jordyn Taylor
Jasmine G.
Most likely to: Ask Nick if she can take him to Flavor Town
Jasmine says if she could be anyone for a day, she'd be Guy Fieri. That is extremely problematic. Maybe she'll refer to the Fantasy Suite as "Flavor Town." —Jordyn Taylor
Maybe she'll be the weird food eater this season. There's always one. —Amanda Buckle
Vanessa
Most likely to: Break a promise
"What's the most romantic present you have ever received, and why? A promise ring — because it's a freaking promise ring!" Obviously not that romantic, because you're single and on a reality show trying to find love. —Amanda Buckle
Angela is most likely to be disappointed in the Jonas Brothers' choices. —Kevin O'Keeffe
Danielle L.
Most likely to: Sneak away from the mansion and stalk Nick's private house while holding a boombox over her head
Her favorite movies are A Walk to Remember, Love Actually and The Notebook. —Jordyn Taylor
Dominique
Most likely to: Leave the show due to e. coli
She mentions Chipotle twice in her bio. —Jordyn Taylor
Jaimi
Most likely to: Try to sell Nick on matching "live, laugh, love" tattoos
This girl has "forever smiles" tattooed on her wrists. —Jordyn Taylor
She's gonna cry. —Kevin O'Keeffe
Hailey
Most likely to: Cry on the first night
Look at Hailey's bio. "I'm very passionate and can be intense..." Her favorite author is Dr. Seuss. —Anna Swartz
I don't believe she actually feels passion. And the Dr. Seuss answer is shady. 'As a person who feels emotions, I was touched by Dr. Seuss' writing,' she probably said once (I'm guessing). Anyway, I'm scared of Hailey. – Kevin O'Keeffe
Lauren
Most likely to: End up dating Chris Soules after getting eliminated
She's a robot created by Bachelor producers. Five things she can't live without: "My super-soft vintage Hall & Oates T-shirt, chapstick, my family, sushi, music." It's like she's deciding what a nice, normal girl would say. Chapstick. Her favorite movie is Step Brothers. —Anna Swartz