These videos may be proof that Drake and Jennifer Lopez are making music together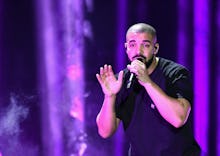 Several videos of Drake and Jennifer Lopez dancing to music that appears to feature their voices surfaced early Friday. They support a theory about why the two artists have been getting cozy with each other lately: They may have a collaboration coming very soon. 
Although Drake and J. Lo have not confirmed whether they are seeing each other romantically, this latest footage of the two together at an event called "Winterland Prom" only fans the flame. It could be their way of trolling us into listening to their new music. 
In the videos below, the singer and rapper two-step to an unknown, soulful dance track. Drake even leans in for a kiss. At another point, they have their arms wrapped around each other for a slow dance.
For the past week everyone has been wondering if Drizzy and J. Lo are dating, as photos of the two hanging out continue to hit social media. Some are even saying Drake is trying to get back at Diddy, who once dated J. Lo. Diddy also had a very public feud with Drake in the past. 
Meanwhile, there is also the possibility that this could all be part of a promotional tactic. Drake does have a new album coming, and it's expected to land in the early part of 2017. J. Lo hasn't announced any official projects for the new year, but she also hasn't released an album since her 2014 album A.K.A. 
In the past, Drake and J. Lo have both made music with artists they've been romantically involved with. Rihanna and Drake, who were reportedly dating earlier this year, climbed to the top of the charts with their dancehall hit "Work." Jennifer Lopez and her ex-husband Marc Anthony have been featured on each other's albums as well in the past. One of their collaborations is the 2005 "Escapémonos."
Until we get official word about what this is all about, it's safe to say that whatever Drake and J. Lo has up their sleeves has definitely caught our attention.