Watch these guys make a million-calorie lasagna before you set any New Year's resolutions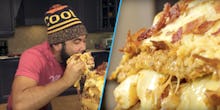 With the New Year approaching fast, why not feast (your eyes) on 1 million calories before you double down on any plans for January dieting? 
A million calories become reality in a new video from Epic Meal Time, a food-centric YouTube channel dedicated to creating caloric monstrosities that are feats of artery-clogging engineering. 
Enter: the 1 million-calorie lasagna posted on Tuesday. Part rap video, part food porn, part health nut horror flick, this video doesn't skimp on glamour shots of the sumptuous ingredients and final product. You know it's about to be a doctor's worst nightmare when the recipe calls for 120 packs of bacon cooked in 60 boxes of duck fat. Check out a few of the most salacious lasagna close-ups below. 
Epic Meal Time has been serving up daring food videos since it premiered on YouTube in October 2010, Eater reported. Epic Meal Time founder Morenstein was inspired to launch the channel after he uploaded a YouTube video of himself eating a huge, multi-patty hamburger at Wendy's in 2007. Since then, Morenstein and his rotating crew have concocted frankenfoods like Four Loko Chili, a 100-pound Big Mac and peanut butter and jelly fries. 
"Epic Meal Time, we all came together and were like, you know what? If one of us were going to die from this, that would just be great," Morenstein told Eater in 2011 — real artists willing to die for their craft, apparently. 
Don't think you can get the meat sweats from simply looking at food? Catch the 1 million-calorie lasagna madness in the video below. Your diet starts tomorrow. (Or the day after. Or the day after that. You get it.)