New Year's Eve weekend movie marathons: Movie franchises to binge watch on TV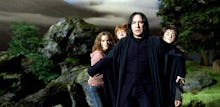 For better or worse, this truly has been an exceptional year. For many, it probably felt like 2016 was never going to come to a close. We are, however, just days away from ringing in a new year, with New Year's Eve festivities in some places just hours away. 
For those that have had a long year and just want to sit back, relax and enjoy some time in front of the television, the major cable networks understand, and they have put together hours of binge-worthy movie offerings for all kinds of film fans. 
This New Year's Eve, weekend networks like TNT, Freeform, Spike and more are breaking out their libraries of movies for your viewing pleasure. So if you are looking to plan your holiday binge, look no further — here are the movie (and in one case, television) franchises you can binge at home this weekend (all times are Eastern). 
Saturday, Dec. 31, 2016
Freeform: Harry Potter
7:00 a.m. — Harry Potter and the Sorcerer's Stone
10:30 a.m. — Harry Potter and the Chamber of Secrets
2:30 p.m. — Harry Potter and the Prisoner of Azkaban
5:30 p.m. — Harry Potter and the Goblet of Fire
9:00 p.m. — Harry Potter and the Half-Blood Prince
Syfy: The Twilight Zone
6:00 a.m. — Twilight Zone: The Movie
8:00 a.m. to 11:30 p.m. — The Twilight Zone episodes
TNT: Lord of the Rings
4:22 p.m. — The Lord of the Rings: The Two Towers
8:00 p.m. — The Lord of the Rings: The Return of the King
FX: The Hangover
4:00 p.m. — The Hangover Part II
6:00 p.m. — The Hangover Part III
MTV: Big Momma's House
1:00 p.m. — Big Momma's House
3:30 p.m. — Big Momma's House 2
Sunday, Jan. 1, 2017
Freeform: Harry Potter
7:00 a.m. — Harry Potter and the Prisoner of Azkaban
10:10 a.m. — Harry Potter and the Goblet of Fire
1:50 p.m. — Harry Potter and the Half-Blood Prince
5:30 p.m. — Harry Potter and the Deathly Hallows, Part I
9:58 p.m. — Harry Potter and the Deathly Hallows, Part II
Syfy: The Twilight Zone
12:00 a.m. to 11:30 p.m. — The Twilight Zone episodes
TNT: The Hobbit
1:18 p.m. — The Hobbit: An Unexpected Journey
4:45 p.m. — The Hobbit: The Desolation of Smaug
TCM: Alfred Hitchcock 
6:00 a.m. — Rope 
7:30 a.m. — Strangers on a Train 
9:15 a.m. — Torn Curtain
11:30 a.m. — Family Plot 
1:30 p.m. — Psycho
3:30 p.m. — Marnie 
5:45 p.m. — The Birds
8:00 p.m. — Vertigo
10:15 p.m. — Rear Window
FX: The Hangover
11:30 a.m. — The Hangover Part II
1:30 p.m. — The Hangover Part III
Spike: The Fast and the Furious
12:00 p.m. — The Fast and the Furious
2:30 p.m. — 2 Fast 2 Furious
5:00 p.m. — The Fast and the Furious: Tokyo Drift
7:30 p.m. — Fast and Furious
10:00 p.m. — Fast Five
BET: Tyler Perry 
12:05 p.m. — Why Did I Get Married Too
3:12 p.m. — Tyler Perry's Temptation: Confessions of a Marriage Counselor 
6:05 p.m. — Tyler Perry's I Can Do Bad All by Myself
9:00 p.m. — Why Did I Get Married Too
Monday, Jan. 2, 2017
Freeform: Harry Potter
1:30 p.m. — Harry Potter and the Deathly Hallows Part I
5:00 p.m. — Harry Potter and the Deathly Hallows Part II
Esquire: James Bond 
7:00 a.m. — GoldenEye
9:30 a.m. — Tomorrow Never Dies
12:00 p.m. — The World is Not Enough
2:30 p.m. — Die Another Day
5:30 p.m. — GoldenEye
8:00 p.m. — Tomorrow Never Dies
10:30 p.m. — The World is Not Enough
Syfy: The Twilight Zone
12:00 a.m. to 11:30 p.m. — The Twilight Zone episodes
TCM: Alfred Hitchcock 
12:15 a.m. — Shadow of a Doubt
2:15 a.m. — The Man Who Knew Too Much
4:30 a.m. — The Trouble With Harry
BET: Tyler Perry 
11:00 a.m. — Tyler Perry's Temptation: Confessions of a Marriage Counselor 
2:05 p.m. — Tyler Perry's I Can Do Bad All by Myself
Spike: The Fast and the Furious
9:00 a.m. — The Fast and the Furious
11:30 a.m. — 2 Fast 2 Furious
2:00 p.m. —The Fast and the Furious: Tokyo Drift
4:30 p.m. — Fast and Furious
7:00 p.m. — Fast Five