One playlist proves Mike WiLL Made-It was behind most of 2016's game-changing hip-hop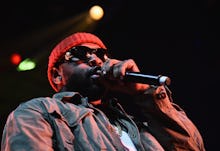 Music was 2016's saving grace. Every time it felt like giving up and retreating into a Netflix hole was a good idea, a new anthem or album dropped to save the party. Not every offering will be remembered years from now (the Chainsmoker's "Closer" and Justin Timberlake's "Can't Stop the Feeling" likely among them), but the offerings of one producer definitely will.
Atlanta producer Mike WiLL Made-It largely defined the sound of 2016, but many may not have even realized it. Beyoncé's jaw-dropping "Formation," Rae Sremmurd's chart-topping "Black Beatles," Gucci Mane's iconic homecoming anthem "Guwop Home" and Young Thug's Slime Season 3 opener "With Them" all bear his stamp, to name a few. The producer shared an instrumental playlist of all of them earlier this week on SoundCloud. 
One listen down his 35-track list proves few producers deserve more praise for making 2016 what it was than WiLL.
Other standouts from WiLL's stellar 2016 include Tinashe's year-opening "Energy," 2 Chainz "Mf'n Right" and Pusha T's Drake diss "H.G.T.V." — songs that made their rounds in their genres, but didn't find much mainstream attention. 
At this point in his career, WiLL has already garnered all the mainstream attention most producers need or want in their careers. In 2013, his blurred-out trap beats helped Miley Cyrus tell the world that she was done being a Disney princess. WiLL produced her Bangerz album's debut single "We Can't Stop." Before that, WiLL cut Kanye West's G.O.O.D. Music posse's "Mercy" and Rihanna's "Pour It Up," which are both still club favorites.
"If you're a super-producer, you can produce whatever you want to produce," WiLL told the New Yorker in a July profile, talking up his current station. "That's where I'm at."
That article goes deep into the creation of WiLL's process creating "Formation," how it started with a vocal line from one of his label signees, Swae Lee of Rae Sremmurd, and how with Beyoncé's help they were able to broaden the scope from feminist chant to Black Lives Matter anthem and ode to Bey's southern roots.
"That's what makes her Beyoncé," WiLL said. "Being able to know what she wants. A lot of people don't know what they want. To the point where you can bring them some hot shit, and they're like, 'This shit ain't it. I need a hit, bro.' And I'm like, 'Man, this is a hit. If you don't like this line or that line, you should take this line out and put your own lines in there, and we doctor it up.' Some people want it cooked."
The quote puts WiLL's work in perspective. His beats, which served as the skeleton for so many of the year's hits, provide the framework and the anchor. It's the visionaries he taps that push the songs the rest of the way onto the charts and into the record books. The unsung initiators like WiLL deserve a heaping share of the credit.
"It's really a process to make one of these great songs," he told the New Yorker. "It's layers. Layers and layers and layers."