Everything you need to know about who's running for DNC chair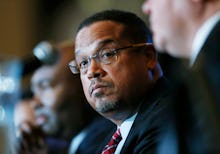 The Democratic National Committee will convene during the last week of February to elect its new chairperson. 
The party, helmed by interim chair Donna Brazile since an email scandal in July forced the resignation of Debbie Wasserman Schultz, is in a state of disarray following Donald Trump's upset win in November and is poised to begin the rebuilding process.
The first step will be selecting a new leader to craft a vision for the party going forward. Five candidates have come forward so far, and several other names have been floated as possible candidates. Here's what you need to know about them:
Rep. Keith Ellison
Ellison, a Democrat from Minnesota, emerged as the early frontrunner to win the gig after earning the endorsements from Bernie Sanders, Elizabeth Warren and Chuck Schumer. 
The first Muslim elected to congress, and the first African-American elected to the U.S. House of Representatives from Minnesota, Ellison has garnered the support of the more progressive wing of the party — something that has made the party establishment uneasy.
Though still arguably the biggest name in the race, Ellison has also come under fire recently from the Anti-Defamation League and others for past remarks some deemed anti-Semitic and for his earlier association with the Nation of Islam and its controversial leader, Louis Farrakhan. Ellison denounced the group in 2006 during his run for Congress, and a spokesperson for Ellison told CNN more recently that the congressman "rejects all forms of anti-Semitism."
Secretary of Labor Tom Perez
In a Mic exclusive earlier this month, Secretary Perez announced his candidacy for DNC chair, writing, "Americans deserve a Democratic Party that will fight for them" and that the party must be strengthened "from the ground up."
"We can't just play defense for the next four years," Perez wrote. "We also need to offer an alternative, optimistic vision that starts with rebuilding the pillars of the middle class: a job that provides dignity and pays a decent wage; an education that opens doors of opportunity; a path to a secure retirement; and access to affordable health care and housing for every family."
Perez, a former civil rights attorney with the Department of Justice, has already emerged as a fierce critic of the president-elect, calling the Trump team's request for the names of Energy Department climate workers "illegal."
According to the Washington Post, Perez "is seen as an effort by the exiting Obama-era leadership to keep control of the party in trusted hands" — a likely drawback for progressives distrustful of the party establishment.
New Hampshire Democratic Chairman Raymond Buckley
Buckley, a former New Hampshire state legislator, has headed the Democratic party in that state since 2007.
In announcing his candidacy for DNC chair, Buckley told the Hill that the party must focus on grassroots outreach and "to stop looking at the DNC's sole reason for existence as winning the presidential race."
"There has been this belief that elections are won in Washington, when in fact elections are won in the states and local communities," Buckley said.
He pointed to the Democrats' recent success in the swing state of New Hampshire as evidence of his ability to build strong state parties.
If elected, Buckley would be the first openly gay chair of a major national party. But, the Hill points out, his relatively low national profile makes him an underdog candidate for the national role.
Idaho Democratic Executive Director Sally Boynton Brown
Boynton Brown, the executive director of the Idaho Democratic Party, entered the race for DNC chair on Dec. 16. She is currently the only woman in the race.
Boynton Brown, another long-shot candidate with a limited national profile, entered the race after Perez in an attempt to prevent a divisive battle between the liberal and moderate segments of the party.
"The last thing that our party and especially our country really needs is for us to be having an ideological conversation between Bernie folks and Obama-Hillary folks about whether we're going to be liberal or whether we're going to be moderate," Boynton Brown told Politico. 
South Carolina Democratic Chairman Jaime Harrison
Harrison became the first African-American to lead a major political party in South Carolina when he took over as chair of the Democratic Party there in 2013.
In an interview with NPR, Harrison talked about refocusing on Howard Dean's 50-state strategy and rebuilding the Democratic Party from the ground up.
"The people who are elected on local levels have just as much impact, if not more, on the day-to-day lives of citizens," Harrison told NPR. "And so we can't just be focused on the White House. If we do what we have to do on a state level, then the White House is gravy. And that's the focus."
Harrison, 40, also pointed to his youth and his "new perspective" as advantages should he be elected.
"I'm not a Clinton Democrat," Harrison told NPR. "I'm not an Obama Democrat. I'm not a Sanders Democrat.
"I'm just a Democrat, one who is raising his son in ruby-red South Carolina and wants to make sure that the opportunities that I've been able to enjoy and the opportunities that so many working people are able to enjoy are ones that persist," Harrison continued. "And I know that all of those things are in danger with Donald Trump as president."
Other possible candidates
Other people who have reportedly been considering runs include Ruben Gallego, a representative from Arizona, John Perez, the first openly gay speaker of the California assembly and Pete Buttigieg, mayor of South Bend, Indiana, and a rising star in the party.
Howard Dean, the DNC chairman between 2005 and 2009, had been a candidate, but dropped out at the beginning of December to "stay in the background and help coach the next chair."