7 things to know about Ryan Seacrest, radio DJ, TV personality and media mogul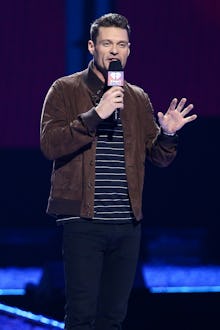 Dick Clark's New Year's Rockin' Eve with Ryan Seacrest 2017 is not complete without the radio and TV personality himself, Ryan Seacrest. The 42 year old will be leading the Times Square countdown, just as he has each year for over a decade. 
"With this show especially, I get butterflies every time I do it, just because it's such a big event on such a large scale," Seacrest told Zap2It. "And it's such an important moment, certainly this year, to start to look forward into next year as a reset."
Here are seven things you might not have known about the On Air personality and former American Idol host:
He played "host" even as a kid.
In a 2002 interview, Seacrest's mother, Connie, told the Atlanta Journal-Constitution that her son has dreamt of hosting since childhood. "Instead of playing with G.I. Joes or Cowboys and Indians, [Ryan] would always have a little microphone and do shows in the house," she said. 
She told the New York Times in 2004: "People would call my answering machine just to listen to his voice. They thought I had a professional doing it. That's when I thought, this might be bigger than I think it is."
He started working in radio at age 16.
When Seacrest was in high school, he won an internship with Atlanta FM radio station WSTR, and was trained by local radio personality Tom Sullivan. "Ryan and I became friends," Sullivan said, according to the bio on his website. "I saw the same passion and talent for broadcasting in Ryan that I had in myself." 
Seacrest has found a way to give back by providing internship opportunities. Funded by the Ryan Seacrest Foundation, Seacrest Studios gives patients at the Children's Hospital of Orange County a chance to learn about radio, TV and new media, and hires college student interns to produce on-air content for patients and their families. 
He's more than a radio DJ.
Seacrest is one busy man. In 2011, an Atlantic headline claimed that he "does everything." So what's the latest? Though American Idol, which Seacrest hosted, ended in April, Billboard writer Chris Willman assured readers that Seacrest's "empire" will far "outlast" Idol. Yes, Seacrest has his radio programs to sustain him (he renewed his three-year contract with iHeartMedia in 2015 to continue hosting his Los Angeles morning FM radio show, as well as his national programs, American Top 40 and On Air with Ryan Seacrest), but he also has regular TV gigs, such as New Year's Rockin' Eve and E! red carpet specials. Then there's what Seacrest does behind the scenes. 
He's a prolific producer.
His company, Ryan Seacrest Productions, is responsible for Keeping Up with the Kardashians and other Kardashian shows. That's not to mention Jennifer Lopez's NBC drama, Shades of Blue, plus multiple other TV shows — I Love Kellie Pickler, Denise Richards: It's Complicated, Bromance, Momma's Boys, Bank of Hollywood, Paradise City and more.
When the Hollywood Reporter asked Seacrest how he started producing Keeping Up with the Kardashians, he said that watching The Osbournes inspired him to find a family.
"Kris Jenner, at the same time, was looking to do a show," he said. "I remembering telling [producer] Eliot Goldberg, 'Let's go up to their house and shoot a barbecue just to see how they interact.'"
As unbelievable as it may seem today, Seacrest told THR that Keeping Up With the Kardashians was not an easy sell. Ultimately, Ted Harbert, who was then the CEO of Comcast Entertainment Group, "gave it the green light." 
He earned $55 million this year.
According to Forbes, Seacrest raked in $55 million in 2016, making him the 30th highest-paid celebrity on Forbes' list. Here's some major evidence of his wealth: In 2012, Seacrest paid Ellen Degeneres $37 million for her house. According to the Hollywood Reporter, the 9,200-square-foot mansion features nine bedrooms and lies on three acres. In addition to the main house, the north Beverly Hills property has an additional three-bedroom house, two guest houses, a pool and a pond. 
He's single.
Though reports from earlier this year pinned Seacrest to model Adriana Lima, ET Online confirmed that the two are not dating. Seacrest is single, ladies. 
The New York City Fire Department just rescued him from an elevator.
According to Gothamist, Seacrest found himself stuck in an elevator on Friday morning. He and his team were on their way to see the Times Square New Year's ball when they got trapped. Thanks to a strong WiFi signal, Seacrest was able to alert his combined 18 million Twitter and Instagram followers and help arrived.