Who is in the new 'The Celebrity Apprentice' cast? Meet the 2017 contestants.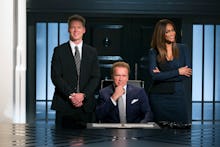 After the show took a two-year hiatus, actor, bodybuilder and former governor of California, Arnold Schwarzenegger, will be replacing President-elect Donald Trump as the new host of NBC's new The Celebrity Apprentice. Now set in Los Angeles, the show's eighth season airs on Monday, Jan. 2, and will follow celebs like Boy George, Brooke Burke-Charvet and Nicole "Snooki" Polizzi as they compete to raise money for their favorite charities. 
Who's in the new Celebrity Apprentice Cast?
Schwarzenegger will be supported by a team of some of the most successful minds in business as contestants look to industry leaders like Warren Buffet, Tyra Banks, Jessica Alba and former Microsoft CEO and Los Angeles Clippers owner Steve Ballmer for guidance during the show's numerous challenges.
The new Celebrity Apprentice contestants
President-elect and former The Celebrity Apprentice host Donald Trump has resigned as the show's host. However, he will remain as an executive producer on the reality series, despite an apparent conflict of interest to his role as president of the United States.
Get to know the new cast below before the 2017 season premieres.
Brooke Burke-Charvet
Brooke Burke-Charvet is an author, model, entrepreneur, fashion designer, fitness expert and philanthropist. The former co-host of Dancing with the Stars will be competing for the nonprofit organization, Operation Smile.
Carnie Wilson
Carnie Wilson is the daughter of Beach Boy, Brian Wilson and a member of the iconic pop trio Wilson Phillips. The singer, cookbook author and mother of two has hosted numerous TV shows, appearing regularly on The View and The Talk. Wilson will be competing for the Weight Loss Surgery Foundation of America.
Carrie Keagan
Carrie Keagan Carrie Keagan is a TV host, author, actress, comedienne and entrepreneur, getting her start as one of the first "YouTube sensations." Keagan is also an advocate for The Humane Society of the United State, and will be competing for the organization's Pets for Life program.
Carson Kressley
Carson Kressley is best known as the former host of Queer Eye for the Straight Guy. The Emmy-winning TV personality, stylist and fashion designer is also a fan favorite alumni of Dancing with the Stars. Kressley will be competing for the True Colors Fund, which works to end homelessness among LGBT youth.
Chael Sonnen
Chael Sonnen is a former UFC fighter and MMA analyst for NBC Sports. He also hosts the popular podcast, You're Welcome. Sonnen will be competing for Hire Heroes USA which provides coaching for veterans transitioning out of the military. 
Boy George
Boy George is an author, producer and British pop icon who has sold over 50-million albums as a solo artist and member of the popular 80s band Culture Club. George will be competing to support for Safe Kids Worldwide, which provides families with information on how to protect their children from accidental injury.
Eric Dickerson
Eric Dickerson is a former NFL running back and current broadcaster analyst for ABC's Monday Night Football. He is involved in the charity organization Big Brothers, as well as his own, called the Eric Dickerson Foundation. Dickerson will be competing for Young Warriors, a  mentoring program for fatherless boys and teens.
Jon Lovitz
Jon Lovitz is an actor, comedian and Emmy-nominated former cast member on Saturday Night Live. He has appeared in numerous big-screen hits like Big, The Wedding Singer and A League of Their Own. Lovitz will be competing for the childhood cancer foundation, St. Jude Children's Research Hospital. 
Kyle Richards
Kyle Richards is a Hollywood native who is best known for her role in the Bravo reality franchise The Real Housewives of Beverly Hills. The actress, business owner, producer and mother of four is the sister of Kathy Hilton and aunt to Paris and Nicky Hilton. She's currently working on a scripted television series inspired by her own life. Richards will be competing on behalf of the Children's Hospital of Los Angeles.
Laila Ali
Laila Ali is a four-time undefeated boxing world champion as well as the daughter of boxing icon, Muhammad Ali. The mother of two supports numerous charitable organizations like Feeding America and Peace4Kids. Ali will be competing for the Women's Sports Foundation which works to ensure that all girls are able to participate in sports.
Lisa Leslie
Lisa Leslie is a model, talk show host and WNBA legend. As a celebrated player in women's basketball, Leslie is the first team sport athlete to win four consecutive Olympic gold medals. Leslie will be competing for the Semper Fi Fund which supports wounded members of the armed forces and their families. 
Matt Iseman
Matt Iseman is a Daytime Emmy-winning TV host and actor, most notably from NBC's hit TV show, American Ninja Warrior and the Esquire spin-off Team Ninja Warrior. He will be competing for the Arthritis Foundation.
Nicole "Snooki" Polizzi
Nicole "Snooki" Polizzi is best known for her role on Jersey Shore, which paved the way for her New York Times best-selling book, A Shore Thing, in addition to numerous other opportunities in writing and television. Polizzi will be competing for the world's largest no-kill rescue and animal adoption organization, North Shore Animal League America.
Porsha Williams
Porsha Williams is an entrepreneur and entertainment news correspondent with The Rickey Smiley Morning Show on Dish Nation. She is currently working on her business ventures, Go Naked Hair and Naked Lingerie. Williams will be competing for Hosea, an organization that provides clothing, food and medical services to seniors.
Ricky Williams
Ricky Williams is a former NFL player and Heisman Trophy winner. After retiring from football in 2012, the MVP became a college football analyst for ESPN's Longhorn Network and is an advocate for the legalization of marijuana. Williams will be competing for the Dr. John E. Eupledger Foundation, which raises awareness for craniosacral therapy.
Vince Neil
Vince Neil is the lead singer of retired rock band Mötley Crüe, who have collectively sold more than 100 million albums globally. The businessman, musician and philanthropist has proudly raised millions of dollars for pediatric cancer and will be competing for Keep Memory Alive, which works to improve the lives of those with Alzheimers and other brain disorders.
Mic has ongoing The Celebrity Apprentice coverage. You can follow our main Celebrity Apprentice hub here.