Swae Lee of Rae Sremmurd has a crush on Malia Obama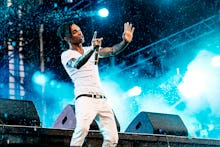 Rae Sremmurd had a great year with the success of their hit "Black Beatles" and Swae Lee, one-half of the duo, is feeling rather confident. He has eyes for Malia Obama and made his admiration public Thursday on TMZ. 
"I think we would get along," the rapper said in an interview. 
He continued with the reasons why. "We're just young minds, creative minds, just great minds," the 21-year-old said of the president's daughter.
Malia, 18, graduated from high school in June and is heading to Harvard University after she takes a gap year. The rapper is hoping there is a possibility they can both "connect" in the near future. 
"We might bump heads. Who knows? Cause we be on both turnt up scenes and we just love life equally," Lee said. He also says alluded to the idea that he would consider writing a song about Malia.  "I might unlock a new swag for her."
Malia made headlines this past summer for turning up at Lollapalooza in Chicago and doing what normal teens do at musical festivals — have fun.
Meanwhile, Rae Sremmurd's "Black Beatles" was one of the most popular songs of 2016 and became the soundtrack to the viral "Mannequin Challenge." The craze made its way to the White House when Michelle Obama froze up with NBA champions the Cleveland Cavaliers. 
Although the hip-hop duo has some newfound clout, this is still a bold declaration for Swae Lee as President Barack Obama is still in office and Malia Obama may or may not even know who he is. We'll know if it's all talk soon enough.