Official 'Shower Beers' are here so you can get buzzed and clean at the same time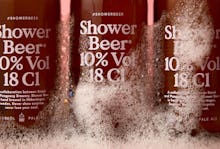 Shower beers are a time-honored tradition for those who enjoy a pre-pregame. But which beer is best suited for getting buzzed in the bathroom? 
Well, no longer will you have to decide between big brands or small microbrews — there's a beer specifically made for getting turnt while getting clean.
Ah, yes, let's all welcome Shower Beer, a collaboration between PangPang Brewery in Sweden and Snask, a creative firm. It's a "sweet but strong pale ale" that's "meant to gulp in three sips while standing in the shower getting ready for the night," according to the product site. 
The concept is sharp — with a stronger brew, you can spend less time drinking and more time belting out your favorite shower tunes. (Because no shower beer is complete without a soundtrack, right?) 
No one needs a beer specifically designed for the shower per se, but the slick marketing and beloved concept give the alcoholic drink instant appeal — similar to the broad appeal of White Girl Rosé, the cheekily named wine that was a collaborative effort between the Fat Jew, an Instagram star, and the brothers behind White Girl Problems, Refinery29 reported. 
Shower Beer sold out instantly after it was released and the second batch is still in brewery tanks, Snask wrote. 
"We are of course positively surprised of the attention it gets but we kind of always knew that it would be something people would love," Fredrik Ost, creative director at Snask, said in an email. "I mean, who doesn't love showers and beer!" 
It's unclear if or when the beer will hit shelves and showers in the United States. Ost said the company is exploring distribution possibilities outside Sweden. American shower beer aficionados will have to sit tight for the time being.