Trump Inauguration: Mormon Tabernacle Choir singer resigns to avoid performing for Trump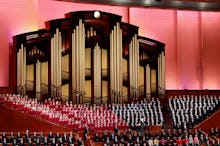 First, it was the Rockettes. Several of the high-kicking women of Rockefeller Center risked their jobs when they publicly objected to performing at Donald Trump's inauguration and celebrating a known pussy grabber. Now, it seems at least one member of Trump's other big get, the Mormon Tabernacle Choir, has decided to resign from the distinguished institution to avoid having to perform for the president-elect.
"Since 'the announcement,' I have spent several sleepless nights and days in turmoil and agony," singer Jan Chamberlin wrote in a resignation letter to the choir president and choir members shared to Facebook. "I've tried to tell myself that it will be alright and that I can continue in good conscience before God and man.
"But it's no use. I simply cannot continue with the recent turn of events. I could never look myself in the mirror again with self-respect." 
Her words join the signatures of more than 21,000 individuals who have signed a Change.org petition urging the Mormon Tabernacle Choir to pull out of Trump's inauguration.
Chamberlin said she feels personally "betrayed" and added that the "Choir's wonderful image and networking will be severely damaged." 
"It will appear that Choir is endorsing tyranny and fascism by singing for this man," Chamberlin wrote.
In her post, the chorister claims she had been with the Choir five years prior to announcing her resignation. Since her posting, Chamberlin also seems to have become a target of online abuse, which she detailed in a follow-up post:
"Today I've been called many things, such as bigot, selfish, self-righteous, close-minded, and I believe also disrespectful. Also implied comments to question my character. And previously unpatriotic, unfaithful to God and faith, and not a good hardworking Choir member. I think that's hilarious!"
Chamberlin also restated her original intentions. "Shall we get back to the topic at hand, which I believe was standing up for freedom, fighting against tyranny and standing true to the values and morals we've been taught by God," she wrote. "I am interested in having dialogue on THAT topic and working together to see how we can work together to do that."
At the time of publication, Chamberlin had not responded to Mic's requests for comment. The Church of Jesus Christ of Latter-day Saints also declined to confirm her membership details or provide information about how many other Choir members have objected to the performance or refused to participate.  
In an email statement provided to Mic on Dec. 27, the Church insisted the decision to perform "is not an implied support of party affiliations or politics. It is a demonstration of our support for freedom, civility and the peaceful transition of power." 
A spokesman added Friday that "participation in the Choir, including the performance at the inauguration, is voluntary." 
Yet, Chamberlin is far from the only person of faith with contentious objections to the Mormon Tabernacle Choir's participation in Trump's inauguration. Randall Thacker, a member of the Church of LDS and past president of Affirmation, a support organization for gay Church members, posted a petition Dec. 22 urging the Mormon Tabernacle Choir to step down from the inauguration stage, writing that the incoming president's "sexist, racist, misogynistic, and xenophobic behavior that does not align with the principles and teachings of The Church of Jesus Christ of Latter-day Saints."
He elaborated on those views in an email exchange with Mic, pushing back against the rationale that the Church's support should be viewed as "nonpartisan." 
"That rationale does not hold up in the real world," Thacker said. "I know many Mormons in Latin America through volunteer work and they overwhelmingly have a very negative view of Trump, and in the conversations I've had with some of them since the news broke, they are dismayed that the Church would participate in this event. Would the Church, if invited, sing at the inauguration of Vladimir Putin or the former Hugo Chavez? I highly doubt it."
"I think there are probably a few handfuls of choir members who feel like [Chamberlin] does and I'm sure it's a very tough decision for them," Thacker added in an email exchange.
Perhaps Chamberlin's courage will encourage other choristers to speak out or clarify their feelings about the Church's implicit endorsement of Trump. The backlash she faced may also be enough to force others to keep their convictions to themselves. For those nervous, perhaps a few of Chamberlin's words may steel them: "Evil people prosper when good people stand by and do nothing." 
Amen.