4 photos from Obama's final White House photoseries will break what's left of your heart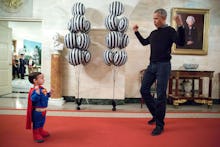 President Barack Obama's time in the White House is coming to an end, and so too is White House photographer Pete Souza's annual round-up of his favorite photos of the president and first family. 
Each year, Souza — who is constantly by Obama's side chronicling his presidency in photos — releases a list of his favorite shots of the year. The photos often reveal private moments the American public isn't around to see. 
Arguably the best are the ones of Obama interacting with children, which the president has become known for during his time in the White House.  
In one, Obama is seen playing around with White House Communications Director Jen Psaki's daughter, Vivi, on the floor of the Oval Office.
In another, Obama jokingly poses for a photo with the granddaughter of his former adviser, David Axelrod.
The photo of Obama flexing his muscles with White House Press Secretary Josh Earnest's son — who was dressed in a Super Man costume for the White House's annual Halloween trick-or-treat — also made Souza's list of his favorite shots of the year. 
As did a private moment with Prince George Souza captured during the president's visit to the U.K. back in April.
A full list of Souza's favorite photos can be found here.