Android Nougat Galaxy S7 Update: Features, Easter eggs and everything we know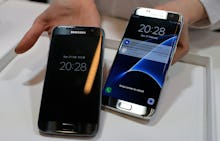 Samsung has rolled out the Android Nougat 7.0 update for some Galaxy S7 and S7 edge owners. 
The operating system update features all the modifications and features available in the Samsung Nougat beta release, TechnoBuffalo reports, along with the most recent Android security patch from Google. GSMArena reports that the small-scaled release, indicates that Android Nougat 7.0 will be made available to all users in the near future should the "soak test" run smoothly.
Android Nougat 7.0 comes with lots of new features
The seventh variation of the Android operating system comes with updates including new emojis, quick switch features allowing a more streamlined way to move between apps and a smarter battery. Additionally, Nougat 7.0 allows a handset to run two apps side-by-side — the multi-window view feature has previously been available on Samsung and LG handsets, but it's available on all Android devices with the new update.
Android Nougat has an Easter Egg
Since Android 2.3 Gingerbread, Google has been hiding an Easter Egg in each new operating system. Android Nougat 7.0 is no different, as there is a Neko Atsume-like feature in the operating system where users collect a variety of cats. Playing the "game" — How-To Geek reports the Easter egg game is hidden in the device's settings menu — entails putting out food and waiting for a cat to show up.
There's a new update to Android Nougat 7.0
Google released an update to Android Nougat 7.0 on Dec. 5 — Android 7.1.1 — promising to bring "many of the cool features of Pixel to everyone." At the time of the release, it was reported that Samsung would be directly updating the Galaxy S7 and S7 edge to Android 7.1.1 in some markets. Key features of the update include new emoji promoting gender equality; a new camera app; and a new Image Keyboard to send stickers, GIFs and other content on apps like Google Allo, Google Messenger and Hangouts; and app shortcuts.