'Sherlock' season 4 premiere: When and where to watch episode 1, 'The Six Thatchers'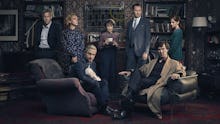 "Did you miss me?"
Those are the final words uttered by Sherlock Holmes's archenemy, James Moriarty, in the final moments of Sherlock's third season. Not only have we missed the presumed-dead Moriarty (played brilliantly by Andrew Scott) since then, but the entire series itself. Outside of a stand-alone holiday special on New Year's Day 2016, it's been nearly three years since season 3's shocking final moments.
When exactly will Benedict Cumberbatch and Martin Freeman return as Sherlock Holmes and Dr. John Watson, respectively? If you cannot take the wait any longer, you're in luck, because season four of Sherlock is right around the corner. Here's everything you need to know so you don't miss a thing. 
Where to watch Sherlock season four, episode one
The first episode of Sherlock's fourth season has been given the title "The Six Thatchers." The episode will air at 9 p.m. Eastern Sunday, Jan. 1 on PBS, as part of the network's Masterpiece series. 
For those hoping to watch Sherlock online, new episodes of the series is also available on Netflix in some countries; however, season four will not arrive in the US until several months after the finale. Netflix Life predicts a June or July release date for Netflix US subscribers. And who can wait that long?
If you live in the U.K. and have access to BBC, Sherlock should be available shortly after broadcast on the network's website. You can also purchase episodes of Sherlock on Google Play, iTunes and Amazon. 
Sherlock season four, episode one synopsis
The synopsis for 'The Six Thatchers' from PBS reads as follows: 
In "The Six Thatchers," Sherlock waits to see where Moriarty will make his posthumous move. One mysterious case in particular baffles Scotland Yard, but Sherlock is more interested in a seemingly trivial detail. Why is someone destroying images of the late Prime Minister Margaret Thatcher? Is there a madman on the loose? Or is there a much darker purpose at work? Something with its roots deep in Mary Watson's past...
Where did Sherlock leave off?
Fans of the television adaptation of Sir Arthur Conan Doyle's iconic literary creation have always had to wait a few years between seasons. Season one of Sherlock premiered in 2010, while season two made its debut in 2012 and the third season following in 2014. Sherlock creators Mark Gatiss and Steven Moffat appear to enjoy teasing the fans, ending each season of Sherlock on quite the cliffhanger.
Season one of Sherlock concluded with Holmes coming face to face with Moriarty, while season two saw the latter kill himself before forcing Holmes to commit suicide (he faked his death, of course). True to form, season three ended with Moriarty — who blew his brains out at the end of season two — announcing to the world he was alive ... maybe.
The 2016 Sherlock holiday special, titled The Abominable Bride, ended with Sherlock rather convinced Moriarty had not returned in the flesh. After all, it is pretty difficult to fake a bullet hole in the skull. This leaves fans curious as to what challenges Holmes and Watson will face in season four — and what they have to do with Moriarty. 
Check out the trailer for season four of Sherlock below:
Jan. 6, 2017, 12:37 p.m.: This story has been updated.