Android Nougat Update: When will your Moto Z get the new operating system?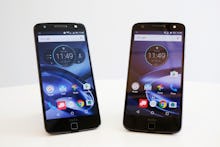 After the debut of the seventh version of the Android operating system — Android Nougat — Motorola announced in October which of its devices would receive the Android 7.0 Nougat update. The list includes the Moto G (4th Gen), the Moto G Plus (4th Gen), the Moto G Play (4th Gen), the Moto X Pure Edition (3rd Gen), the Moto X Style, the Moto X Play, the Moto X Force, the Droid Turbo 2, the Droid Maxx 2, the Moto Z, the Moto Z Droid, the Moto Z Force Droid, the Moto Z Play, the Moto Z Play Droid and the Nexus 6.
U.S.-based Moto Z and Moto Z Force owners with Verizon plans reportedly started receiving the Android 7.0 Nougat update in the middle of November. Shortly thereafter, Motorola announced the start of its global roll out for the operating software, which would vary based on company and carrier. According to GSMArena, the Android 7.0 Nougat update is rolling out in China right now — more than a month after Motorola's global roll out announcement — and is rumored to be hitting Europe by the end of January.
Android Nougat 7.0 offers users an array of updates, including 72 new emojis, a quick-switch feature allowing a more streamlined way to move between apps, a multi-window view feature and a smarter battery. Mere months after releasing the final version of Android 7.0, Google released Android 7.1.1 — an update to Nougat that promises to bring "many of the cool features of Pixel to everyone."
The Nougat update will make the Moto Z and Moto Z Force smartphones Daydream-compatible, reports Engadget, making them the first smartphones aside from Google's Pixel and Pixel XL ready for Google's $79 VR headset. "Daydream offers an unprecedented opportunity to dive into a kaleidoscope of experiences," said Motorola in a blog post. "With Daydream, you can explore new worlds, attend a sporting event or concert, enjoy your own personal cinema and so much more."