'Harry Potter' Weekend Schedule: Check out the full Freeform marathon lineup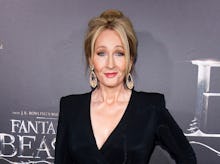 Say hello to the beginning of the end for Harry Potter Weekend on Freeform. Now that NBC has bought the rights to the boy wizard film franchise, Freeform will have to cease its Harry Potter marathons by the end of 2017. NBC will have an exclusive hold on the movies from 2018 through April 2025, according to Entertainment Weekly. 
Of course, 2018 isn't here yet. Freeform's last Harry Potter Weekend of 2016 (and the first of 2017) will run from Friday, Dec. 30 to Jan. 2. On Jan. 1, there will be a one-hour break for the premiere of the new sci-fi drama, Beyond, at 9 p.m. Eastern.
Here's the full Harry Potter Weekend schedule. Times listed are Eastern:
Dec. 30
3:30 p.m — Harry Potter and the Sorcerer's Stone
7 p.m. — Harry Potter and the Chamber of Secrets
Dec. 31
7 a.m. — Harry Potter and the Sorcerer's Stone
10:30 a.m. — Harry Potter and the Chamber of Secrets
2:30 p.m. — Harry Potter and the Prisoner of Azkaban
5:30 p.m. — Harry Potter and the Goblet of Fire
9 p.m. — Harry Potter and the Half-Blood Prince
Jan. 1
 7 a.m. —  Harry Potter and the Prisoner of Azkaban
10:10 a.m. — Harry Potter and the Goblet of Fire
1:50 p.m. — Harry Potter and the Half-Blood Prince
5:30 p.m. — Harry Potter and the Deathly Hallows: Part I
[9 p.m. break for Beyond premiere.]
9:58 p.m. — Harry Potter and the Deathly Hallows: Part II
Jan. 2
1:30 p.m. — Harry Potter and the Deathly Hallows: Part I
5 p.m. — Harry Potter and the Deathly Hallows: Part II