'Overwatch' Chinese New Year event speculation: What will be the next 'Overwatch' update?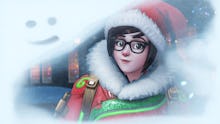 Even though there are several days left in Overwatch's Winter Wonderland event, players are already speculating about what events may be lingering on the horizon. Blizzard has yet to announce anything official, but there are a few possibilities in the very near future, including the chance of a Chinese New Year update. Let's discuss.
Overwatch Chinese New Year event?
In response to fan complaints that Mei's "Mei-rry" skin from the Winter Wonderland event was underwhelming, Overwatch director Jeff Kaplan said the following:
For people concerned that Mei is not going to get another Legendary for a long time, you need not worry. We have something pretty awesome for her early next year.
Kaplan didn't specify whether Mei's forthcoming Legendary skin would be released as part of another in-game event, but since that's the vehicle by which most new skins are added, it seems likely.
The biggest holiday in the early part of 2017 that might yield a Mei skin is the Chinese New Year, which begins Jan. 28. Blizzard's other games, like World of Warcraft and Heroes of the Storm, have previously featured in-game events tied to this holiday. So, it's certainly possible Overwatch will do the same.
Mei's ties to the Harbin Ice Festival
The other event that might be connected to a new Mei skin is the Harbin International Ice and Snow Sculpture Festival, an annual Chinese event that starts in early January and lasts approximately one month.
This specific festival was a primary inspiration for Mei's character design, according to a report by South China Morning Post, so it would make sense for Blizzard to pay homage to the festival with a new skin.
In Kaplan's most recent Developer Update video, he said Blizzard was planning several "unexpected" in-game events, so something tied to the ice festival would certainly fit the bill.
When Blizzard announces additional details on the new Mei skin, Mic will keep you in the loop.
More Overwatch news, updates, tips and tricks
For more on Overwatch, check out the rest of what Mic has to offer. Here's a roundup of the best Overwatch plays of the week, our definitive ranking of every Overwatch hero, a giant Overwatch FAQ for beginners, the latest rumors of a Terry Crews-voiced Overwatch character, all the updates in patch 2.01, the fandom's reactions to the Zenyatta Nutcracker skin, a guide to all the hidden details in the Winter Wonderland event and a list of unlockable goodies you can earn for Overwatch's other characters.