Nintendo Switch Release Date, Specs: NVIDIA's CES 2017 event could include a big reveal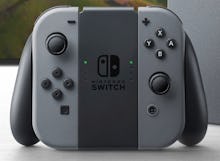 The Nintendo Switch hardware specs probably won't be revealed until an official event in January 2017, when the gaming company best known for Super Mario Bros., Legend of Zelda and that iPhone game you can't play on your subway commute offers hands-on demos for the upcoming portable console.
However, it's possible we could learn a few more Nintendo Switch details even sooner. NVIDIA's upcoming Jan. 4 presentation at the Consumer Electronics Show just might offer a few clues about the gaming system.
Nintendo Switch Release Date Specs: Tegra processor and other NVIDIA hardware?
On the day Nintendo first unveiled the Switch in October, NVIDIA was quick to reveal it would provide the processor tucked inside. The chip-maker wouldn't offer exact clock speeds or a model number, but it did reveal we'd find a Tegra processor within the new console. The details of this processor — including whether it's a current model or a next-generation design — could be announced onstage at CES 2017.
NVIDIA might even introduce other components that could be included in the Nintendo Switch. Considering the recent reports suggesting Nintendo's console won't be as powerful as the PS4 or Xbox One, we could definitely use some reassurance ahead of the Japanese company's official January event.
NVIDIA's CES 2017 keynote speech will take place at 6:30 p.m. Pacific on Jan. 4, so we could know more pretty soon.
Nintendo Switch Release Date Specs: Display, battery and other rumors 
Even without NVIDIA's help, there's quite a bit we already know about the Nintendo Switch. Publicly available documents filed by Nintendo with the FCC have confirmed the Switch won't offer a removable battery, meaning you won't be able to extend battery life by swapping in a second power pack on the go. We also know the console will support 802.11 ac and the G5Hz spectrum for faster Wi-Fi speeds. Unlike Nintendo's current portable, the 3DS, this portable gaming device will support Bluetooth.
Even so, many of our questions regarding the Nintendo Switch remain unanswered. Hopefully, by the end of January, we'll have specific details on the console's processing capabilities, its display resolution and size, and battery life for both the Switch and its Joy-Con controllers.
Nintendo Switch news, rumors and update
Check out more Nintendo Switch coverage, including Mic's reports on whether the console will be backwards-compatible, what current games we want high-definition remakes of and information about the upcoming event.