'Girl Meets World' canceled or renewed? Disney channel writers provide update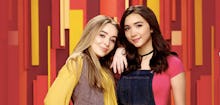 Actor Rider Strong caused a stir when he told his podcast listeners that Girl Meets World won't be renewed for Season 4. But there's no official word on the series quite yet.
TV Line reported that on the Dec. 24 episode of podcast Literary Disco, Strong — who reprised his Boy Meets World's role as Cory's bestie, Shawn Hunter, in the Disney spinoff — revealed that the series has "ended."
"We finished the third season of Girl Meets World — my brother and I were directing a lot of episodes and I acted in a couple — and the show ended," the 37-year-old actor said.
The Disney Channel told TV Line they had no comment on the future of Girl Meets World.
Renewal still possible
On Dec. 29, Girl Meets World writers provided on Twitter update on the show — the update being that there is no update. The first tweet poked fun at Strong, saying, "As much as I love Shawn Hunter, having created his character and everything, you have to remember that he was wrong a lot."
In subsequent tweets since then, the writers said it "has been a great joy to get to continue this story" and thanked the viewers. The writers also tweeted that the next episode (which will be an hour, instead of the usual 30 minutes) will air Jan. 6 at 6 p.m. Eastern.
"Every other episode we hope you learn from us," they wrote. "In this episode, we learn so much from you."
Still episodes for 2017
As the Girl Meets World writers point out, the show hasn't finished airing yet. It's just on its mid-season break, with "Girl Meets a Christmas Maya" being the most recent episode. Per IMDb, the episode premiered Dec. 2 and featured Riley excited about the holidays, while Maya could only think of unpleasant childhood memories.
Regardless of what its fate may be, the show will return in January with three more episodes: "World Meets Girl" (Jan. 6), "Girl Meets Sweet 16" (Jan. 13) and "Girl Meets Goodbye" (Jan. 20). 
The Jan. 20 season finale will feature the show's largest Boy Meets World reunion to date. According to TV Line, Shawn, William Daniels (Mr. Feeny), Will Friedle (Eric), Anthony Tyler  Quinn (Mr. Turner), William Russ (Alan), Betsy Randle (Amy), Lee Norris (Minkus), Danny McNulty (Harley), Lily Nicksay (Morgan No. 1) and Lindsay Ridgeway (Morgan No. 2) will appear on the episode.