New Year's Eve Ball Drop Livestream 2017: How to watch the NYC celebration live online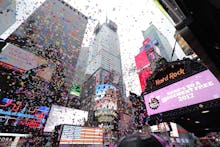 It's almost time to say goodbye to 2016, and there's no more iconic way to ring in the new year than by watching the ball drop in Times Square.
For those who don't want to battle the crowds in person — or aren't able to get to a television to watch — the event will also be livestreamed, giving Americans everywhere the chance to celebrate with the iconic tradition.
How to watch
Viewers will be able to watch the live webcast, which will launch at 5:55 p.m. Eastern on the Times Square Alliance's official website, as well as on TimesSquareBall.net.
Mobile viewers will be able to watch the festivities on the go from their phones, either through the websites above or by using the official Times Square Ball app, which is available via iTunes and Google Play.
Webcast lineup
Leading the livestream festivities will be TV host and Mean Girls star Jonathan Bennett, who will host the live webcast for the first time. Bennett will be joined by correspondents Andrea Boehlke and Jeremy Hassell.
The webcast, the Times Square Alliance noted, will include "backstage access, behind-the-scenes stories and interviews with revelers, performers and other celebrities." Artists currently set to perform in Times Square on New Year's Eve include Mariah Carey, Gavin DeGraw, Rachel Platten and DNCE.
For more information about Times Square's New Year's Eve festivities, visit TimesSquareNYC.org.