Looks like Apple's iPhone 8 is getting a major size upgrade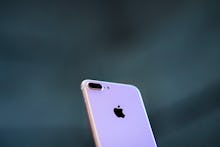 2017 is going to be a big year for the iPhone. Apple is expected to go all out in celebration of the device's 10th anniversary, and it looks like the iPhone will literally increase in size as well. 
A new leak from DigiTimes reveals plans for Samsung Display to exclusively supply Apple with AMOLED panels for a new iPhone. 
"Apple will launch 4.7-, 5.5- and 5.8-inch new iPhone models in second-half 2017, with TFT-LCD panels to be used in the former two models and AMOLED for the 5.8-inch one," sources said, according to DigiTimes.
Considering the 5.8-inch model is outfitted with AMOLED display — which is a hybrid of traditional LCD technology with the newer OLED screens — the 5.8-inch device mentioned by DigiTimes is almost certainly the iPhone 8. That theory is backed by several earlier reports claiming that Apple will unveil three models in 2017. 
Apple refrained from supersizing its phones for years, but finally gave into consumer demand with the Plus editions. Now it looks like the company is taking it a step further and rolling out its biggest device to date. 
Whether or not that 5.8-inch screen factors in a rumored curved display remains to be seen. One thing's for sure: We'll find out in 2017.