Someone twisted this Jewish family's menorah into the shape of a swastika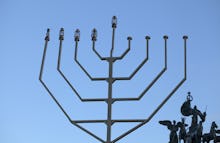 Naomi Ellis and her her husband Seth spent Friday morning — the morning after the sixth night of Hanukkah — trying to explain to their three young sons why someone had vandalized the menorah the family had put out on their yard by twisting the metal pieces into the shape of a swastika.
The Ellis family had only built the 7-foot-tall menorah on the front lawn of their home in Chandler, Arizona, because their sons, ages 5, 7 and 9, had asked their parents if the family could decorate their home like the neighbors did for Christmas, the Washington Post reported.
They reportedly built it together out of PVC pipe and solar-powered lights. But it wasn't up for long before a vandal, or vandals, unscrewed it while the family was sleeping and rearranged it into the shape of a swastika.
"We talk a lot about the importance of equality and tolerance, loving everybody no matter what," Naomi Ellis told the Washington Post on Friday. "I had to tell them that not everybody feels that way. Some people are ignorant, and this is what they do."
Seth Ellis, who works in construction, reportedly discovered what had happened early Friday morning, when he woke up at his usual time, around 4 a.m. The family called police, who helped take the swastika down and reported the incident as disorderly conduct. No arrest has been made.
Using a swastika as a symbol of hate and intimidation is, unfortunately, not rare. In November, out gay New York state Sen. Brad Hoylman came home to find a swastika carved into the wall of the apartment building in which he lives with his Jewish husband and their daughter. Holyman said he believed the attack was symptomatic of an increasingly visible white supremacist alt-right movement in the U.S. 
"I had to tell them that not everybody feels that way. Some people are ignorant, and this is what they do."
"I fear that the alt-right is coming for all of us," Hoylman said in a phone interview with Mic at the time. "Why this is acceptable is beyond me."
Also in November, an apparent supporter of Donald Trump defaced Brooklyn Heights' Adam Yauch Park with spray-painted swastikas. The park is named in memory of Beastie Boy Adam Yauch, who was Jewish.
As for the Ellis family, Naomi Ellis told the Post that her husband plans to rebuild the menorah on Friday night. Temple Emanuel, the nearby Reform Jewish synagogue to which the family belongs, plans to come out to join them in solidarity as they relight the menorah.
"This is the real reality that we live in," Ellis told the Post. "People hate us for no reason or want us to feel scared for who we are. That's not something I wanted to have to tell [my children]."