Donald Trump praises Vladimir Putin on Twitter as Barack Obama ejects Russians for hacking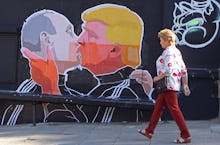 President-elect Donald Trump lavished strongman Vladimir Putin with electronic praise on Friday, just hours after Russian diplomats began speeding their way out of the United States following White House-imposed sanctions for alleged cyberattacks.
"Great move on delay (by V. Putin) - I always knew he was very smart!" tweeted the incoming leader of the free world, after Putin said Russia would not immediately retaliate against the U.S. for the sanctions.
In an added flourish, Trump pinned the tweet to the top of his feed, which has more than 18 million followers.
"Pin one of your Tweets to the top of your page, so it's easy for your followers to see what you're all about," say the official guidelines for Trump's favorite social medium. 
Trump has avoided blaming the Russians for meddling in U.S. affairs, even after Obama imposed the sanctions on two of the country's high intelligence groups for hacking the Democratic National Committee.
Putin has said he will wait until after Trump takes power to address the international controversy, which has the American intelligence community accusing Russia and its agents of cyberattacks meant to interfere with the 2016 elections.
Trump's continued warm words to and about Putin have left professional and armchair pundits somewhere between suspicious, panicked and flummoxed about the endgame of the president-elect.
The world is asking: Is brinksmanship, naivety — or something else?
The former KGB agent was busy on Twitter himself Friday, retweeting a national feed announcing his New Year's well-wishes to both the incoming and outgoing American administrations.
Trump remained in meetings at Mar-a-Lago, his Florida resort — his transition team having issued a day earlier his terse statement following Obama's imposition of the sanctions:
"It's time for our country to move on to bigger and better things," the Trump statement read. "Nevertheless, in the interest of our country and its great people, I will meet with leaders of the intelligence community next week in order to be updated on the facts of this situation."