2016 Celebrity Deaths: From David Bowie to Carrie Fisher, all the big names we lost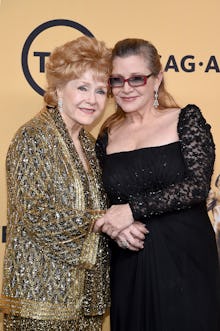 Good riddance, 2016! This year, fans said goodbye to many of their favorite musicians, actors and actresses. 2016 started off with a tear jerker with the deaths of David Bowie and Alan Rickman in January. And things certainly didn't end well: George Michael, Carrie Fisher and her mom, Debbie Reynolds, all died in the last few weeks of the year.
As we get ready to ring in the new year, we've compiled all of Mic's coverage of celebrity deaths in 2016.
Story originally published on Jan. 11.
Monday morning brought the somber and startling confirmation that beloved British musician David Bowie died on Sunday. A statement uploaded to the artist's Facebook page confirmed the news.
"David Bowie died peacefully today surrounded by his family after a courageous 18-month battle with cancer," the post read. "While many of you will share in this loss, we ask that you respect the family's privacy during their time of grief." Bowie, who was born David Robert Jones in London, celebrated his 69th birthday on Friday. Prolific until the end, the artist also marked his birthday with a 25th studio album, Blackstar.
The artist's passing follows a months long battle with cancer.
Bowie's son, film director Duncan Jones, confirmed the news in a Monday morning tweet, which read, "Very sorry to say it's true. I'll be offline for a while. Love to all."
Responding to the news, rock royalty and a good friend of Bowie's, Iggy Pop, published a statement on Facebook. "David's friendship was the light of my life," he wrote. "I never met such a brilliant person. He was the best there is." Pop wasn't alone in expressing grief on Monday morning. A veritable outpouring of reverent comments populated social media as people around the world awoke to the news. Musicians, artists, fans and friends were shocked and saddened by the artist's passing.
As early as Monday morning, memorials dedicated to Bowie's remembrance emerged.
Story originally published on Jan. 14.
Alan Rickman, British actor and television star who starred in films such as Harry Potter, Die Hard and Dogma, has died at age 69, the Guardian reports. The actor's family confirmed his death and that Rickman had cancer.
"The actor and director Alan Rickman has died from cancer at the age of 69. He was surrounded by family and friends," a statement from the family read.
Born in Hammersmith, a district in West London, the British actor inspired thousands with his broad acting range, and his career spanned more than 30 years. Rickman first began acting in 1978, playing the role of Romeo's primary antagonist Tybalt in Romeo and Juliet.
Rickman became one of film and theater's most revered actors, shifting between the roles of villain, voice actor, and director seamlessly. The actor previously directed Emma Thompson in the 1997 film The Winter Guest and Kate Winslet in the 2014 film A Little Chaos.
Best known by his younger fans for his role as the mean spirited Professor Severus Snape in the Harry Potter film series, older fans may recognize Rickman as Hans Gruber, the German antagonist from the 1988 film Die Hard.
Rickman also appeared in the films Galaxy Quest, Robin Hood: Prince of Thieves, Sense and Sensibility and Truly, Madly, Deeply.  Although the British actor never won an Oscar, Rickman filled his award case with a BAFTA Award, Golden Globe, Primetime Emmy, and SAG Award during his prestigious career.
Rickman leaves behind his partner of more than 50 years, Rima Horton. 
The actor will have one final voice acting role in Alice Through the Looking Glass, the sequel to the 2010 film Alice in Wonderland. The film has been completed, and Rickman will voice Absolem the Caterpillar.
Story originally published on Jan. 26.
Abe Vigoda, a character actor most famous for roles in the Godfather, Good Burger and the television series Barney Miller died in his sleep Tuesday at the age of 94, the Associated Press reported. His daughter Carol Vigoda Fuchs broke the news. "This man was never sick," Fuchs told the AP, saying that the cause of death was old age.
The nonagenarian actor had been in poor health in recent days, with his nephew Jesse Vigoda Kurland posting that his uncle had gone into hospice care four days ago. "Letting everyone know that my [great] uncle Abe Vigoda has officially gone into hospice and stopped taking his medication," Kurland wrote in a Facebook post that was reposted to Phish.net. "He's 94 years old so he may not be around for all that much longer. Figured some of you might care to know."
In his later years, the Brooklyn native embraced his more humorous sides as a recurring guest on Late Night With Conan O'Brien and, in 2013, a memorable onstage appearance at a Phish concert.
In addition to his long acting career, Vigoda became a household name after a number of outlets prematurely declared him dead — more than once. It began with a 1982 mention of "the late Abe Vigoda" in People magazine. At the time the actor was performing in a play in Calgary, Canada. Five years later, Secaucus, New Jersey made the same mistake.
A narrow brush with death on an emergency airplane landing in 1999 did nothing to tamp down on the rumors. By the time he starred in Good Burger, the idea of his death had become a running punch line. In 2001, a website dedicated to monitoring his status was established, as well as numerous Twitter accounts — some of which were a little behind the times. 
To reiterate — so there is no further confusion: 
Abe. Vigoda. Is. Dead.
Rest in peace.
Story originally published on March 23.
"I'm like an energizer 'cause, you see, I last long," rapped Malik "Phife Dawg" Taylor on A Tribe Called Quest's 1991 hit "Check the Rhime." Taylor died on Wednesday after battling a slew of health complications, including a 26-year battle with Type 1 diabetes that earned him the self-described moniker "the funky diabetic." But as the hip-hop world mourns, it's clear that Phife's legendary music will live on.
Questlove, longtime drummer for The Roots, left a touching note on Instagram:
Phife forever 1970-2016. 1991 in Sept I went to visit Tariq at Millersville U in the middle of PA (Lancaster). Miles Davis had just passed & I went on a binge to study his post jazz works. Went to Sound Of Market to purchase Nefertiti, In A Silent Way & Live Evil---the only non jazz purchase I made that day ironically was the most jazziest album in that collection: #TheLowEndTheory  by @ATCQ. — it was raining that day so somehow the 1 ... 2 punch of "Nefertiti"/"Fall" just had me in a trance that train trip — even though I suspected there was a possibility that Tribe could possibly have made a better album then their debut (the perfect @@@@@ mic Source rating would be on stands in a week so I was right) — but I knew I wanted to save that listening for when I got up to the campus w Riq. — so some 90mins later when I get to his dorm — we ripped that bad boy open  (I can't describe the frustration that was CD packaging in 1991, just imagine the anger that environmentalists feel when all that paper packaging in Beats headphone gets wasted — it's like that) — the sign of a true classic is when a life memory is burnt in your head because of the first time you hear a song. — Riq & I had this moment a few times, but the look on our faces when we 1st heard "Buggin Out" was prolly Me & Tariq's greatest "rewind selector!" moment in our friendship. (Back then every MC's goal was to have that "rewind!!!" moment. As in to say something so incredible. Or to catch you by surprise that it makes you go "DAAAAAYUM!!!" & you listen over & over — Malik "Phife" Taylor's verse was such a gauntlet/flag planting moment in hip hop. Every hip hop head was just...stunned HE. CAME. FOR. BLOOD & was taking NO prisoners on this album (or ever again) we just kept looking at the speaker on some disbelief old timey radio Suspense episode. & also at each other "Phife is KILLIN!" — by the time we got to "Scenario" I swear to god THAT was the moment I knew I wanted to make THIS type of music when I grew up — (yeah yeah dad I know: "go to Juilliard or Curtis to make a nice living at  'real music'") but he didn't know that Phife & his crew already wrote my destiny. I ain't look back since. THANK YOU PHIFE!
Too many of hip-hop's greatest have died at relatively young ages. In 2014, Phife Dawg released a tribute to J Dilla, who died at 32 after complications from lupus. It's a poignant song that's especially relevant now:
Story originally published on April 21.
Prince, a prolific rock star known for his mysterious brand of funk rock, died Thursday morning at his Paisley Park estate in Chanhassen, Minnesota, TMZ reported and the Associated Press confirmed with his publicist. He was 57.
The sheriff's office responded to emergency calls at 9:43 a.m., and authorities later confirmed someone had died on the grounds, WCCO reported. During a press conference Friday, Carver City Sheriff Jim Olson indicated the singer's body showed "no obvious signs of trauma" and authorities had "no reason to believe" it was a suicide. Autopsy results, said Olson, will "not be ready for weeks."
The singer was rushed to the hospital after his jet was forced to make an emergency landing on Friday morning, reportedly due to a severe bout of the flu, but he had appeared to be on the mend, TMZ reported. Late Thursday, the website reported that Prince was allegedly treated for a "drug overdose" just six days before his death, and that he left the hospital against medical advice. 
Prince made an appearance at a dance party near his home on Saturday to let fans know he was alright and recovering from an apparent flu that forced him to cancel two shows. "Wait a few days before you waste any prayers," he reportedly told the crowd.
Prince, born Prince Rogers Nelson in Minneapolis, achieved legend status with the release of his 1984 album Purple Rain, which Rolling Stone named the 76th greatest album of all time. He first rose to prominence in 1979 as his eponymous album, Prince, went platinum. 
Over the course of his career, the artist earned seven Grammys and sold over 100 million records. In 1993, a contract dispute famously prompted the musician to change his legal name to an unpronounceable symbol, and media began to refer to him as "The Artist Formerly Known as Prince" until 2000, when the disputed contract was up.
Some of his best loved songs include "Purple Rain," "When Doves Cry," "1999," "Kiss," "Let's Go Crazy" and "Little Red Corvette." He performed a few of these during his Super Bowl XLI halftime show in 2007, which is considered one of the greatest of all time. 
Story originally published on June 11.
Christina Grimmie, a former contestant on the singing competition The Voice, was shot and killed by a man while signing autographs after an Orlando, Florida, show Friday night.
According to CNN, the man was armed with two guns, and fatally shot himself after being tackled by Grimmie's brother. 
Hours before the show, 22-year-old Grimmie posted an excited video on Twitter, telling fans about the performance at the Plaza Live theater. Grimmie performed at the show with the band Before You Exit, according to authorities, and had stopped along with the group to meet with fans after the show. 
Grimmie, who started off on YouTube and amassed a huge following, made it to the Top 3 on season 6 of The Voice.
It is not immediately known how the gunman got past security with the weapons, CNN reported.
"We don't know if he was just a crazy fan that followed her on Twitter or on social media," Orlando Police spokeswoman Wanda Ford said, according to the network. "We really don't know ... it's undetermined at this point."
Grimmie released her final EP, Side A, in February.
Story originally published on June 19.
Anton Yelchin, the actor best known for playing the role of Pavel Chekov in the rebooted Star Trek cinematic franchise, died Sunday morning at the age of 27 due to a car accident, the Associated Press reported.
Yelchin was also known for his roles in Alpha Dog, Terminator Salvation and Charlie Bartlett, as well as a bevy of TV appearances (his first, in 2002, was on E.R.). According to TMZ, friends discovered Yelchin's body at around 1 a.m. local time at his Studio City, California, home, "pinned between his car and a brick mailbox, which was attached to a security gate."
According to the Los Angeles Times, authorities believe Yelchin's car rolled downhill across a steep driveway.
Numerous friends, co-stars, colleagues and others responded to the news on Twitter.
Yelchin's parents were professional figure skaters who immigrated to the United States when he was a baby, reports E! Online, and he is an only child.
Star Trek: Beyond, Yelchin's final contribution to the Star Trek franchise, will premiere in late July.
Story originally published on Aug. 13.
Kenny Baker, the 3 foot 8 inch actor who portrayed the droid R2-D2 in the Star Wars film franchise, died at the age of 81 following a "long illness," reported the Guardian on Saturday.
Baker portrayed the famous robot in 1977's Episode IV — A New Hope, as well as its sequels The Empire Strikes Back and Return of the Jedi and the prequel film trilogy.
According to Wookieepedia, before director George Lucas hired Baker to climb inside the R2-D2 suit, Baker was "a circus and cabaret performer with entertainer Jack Purvis," and his other film credits include Willow, Labyrinth and The Elephant Man. He was also an accomplished mouth organ player and had an act in stand-up comedy.
"It was expected, but it's sad nonetheless," Baker's niece, Abigail Shield, told the Guardian. "He had a very long and fulfilled life. He brought lots of happiness to people and we'll be celebrating the fact that he was well loved throughout the world. We're all very proud of what he achieved in his lifetime."
Story originally published on Aug. 29.
Beloved actor and comedian Gene Wilder is dead at age 83, ABC News reports. His family reportedly announced his death on Monday. Wilder was beloved by generations of young people for his role as the enigmatic Willy Wonka in the 1971 film Willy Wonka & the Chocolate Factory.
Wilder's family reportedly said Monday the actor died of "complications from Alzheimer's disease" late Sunday, in Stamford, Connecticut, the Associated Press reported.
Wilder was born Jerry Silberman, according to the Washington Post, and took his stage name from playwright Thornton Wilder and a Thomas Wolfe novel. He developed his sense of humor, he explained in his autobiography Kiss Me Like a Stranger, after a doctor who was treating his ill mother told him "Don't ever argue with your mother — you might kill her ... Try to make her laugh."
Wilder was known for his roles in Mel Brooks comedies, including The Producers and Young Frankenstein, as well as for his marriage to fellow comedian Gilda Radner, with whom he starred in the 1982 film Hanky Panky. Wilder and Radner were married from 1984 until her death, from ovarian cancer, in 1989.
After Radner's death, Wilder helped to open the Gilda Radner Ovarian Cancer Detection Center at Cedars-Sinai Hospital in L.A. He married speech therapist Karen Webb in 1991, telling the Independent in 1996, "at that point in my life I didn't think I would ever be married again after Gilda died ... And now Ms. Webb and I live a quiet life in Connecticut."
In a 2013 interview about his role as Willy Wonka, Wilder described creating the iconic character: "I thought the script was very good, but something was missing," he said. "I wanted to come out with a cane, come down slowly, have it stick into one of the bricks, get up, fall over, roll around, and they all laugh and applaud. The director asked, 'What do you want to do that for?' I said from that time on, no one will know if I'm lying or telling the truth."
Story originally published on Nov. 10.
Leonard Cohen, the prolific poet, novelist, songwriter and performer, has passed away at the age of 82. 
The singer's label, Sony Music Canada, confirmed his death on Facebook on Thursday evening. 
"We have lost one of the music's most revered and prolific visionaries," the post said, urging privacy for Cohen's family. 
Cohen, who was revered as a songwriter by the likes of James Taylor and Willie Nelson, is perhaps best known for his hit "Hallelujah," which has been covered more than 300 times. His most recent album, You Want It Darker, came out in October, and Cohen was clear he intended it to be his last. In a lengthy interview with the New Yorker, Cohen shared he was "ready to die." 
"I hope it's not too uncomfortable," Cohen said. "That's about it for me."
In what many see as a time of intense darkness — no doubt made darker by Cohen's passing — it might be useful to seek solace in some of his words: "There is a crack in everything / that's how the light gets in."
Story originally published on Nov. 14.
Gwen Ifill, the PBS anchor know for co-hosting NewsHour with Judy Woodruff, died Monday at the age of 61.
Politico reported Ifill died after a "battle with cancer," citing confirmation from PBS. Politico reporter Hadas Gold tweeted the news at 1:54 p.m. Eastern. 
On Thursday, the Associated Press reported the anchor was "taking unspecified time off for health reasons."
"Ifill, 61, was out for two months last spring," the AP noted. "She has not revealed the nature of her illness."
Sharon Percy Rockefeller, CEO and president of public television and radio stations WETA, delivered the news to colleagues in an internal email Monday.
"I am very sad to tell you that our dear friend and beloved colleague Gwen Ifill passed away today in hospice care in Washington," Rockefeller wrote, according to Politico. 
"I spent an hour with her this morning and she was resting comfortably, surrounded by loving family and friends," she added. "Earlier today, I conveyed to Gwen the devoted love and affection of all of us at WETA/NewsHour. Let us hold Gwen and her family even closer now in our hearts and prayers."
Sara Just, executive producer of PBS NewsHour, extolled Ifill's professional impact in a statement Monday, Politico reported:
Gwen was a standard bearer for courage, fairness and integrity in an industry going through seismic change. She was a mentor to so many across the industry and her professionalism was respected across the political spectrum. She was a journalist's journalist and set an example for all around her.
Health problems notwithstanding, Ifill played an integral role in public television's coverage of the presidential elections.
Story originally published on Nov. 19.
Sharon Jones, inimitable funk and soul legend and frontwoman of the Dap-Kings, died Friday from pancreatic cancer, the New York Times reported. She was 60 years old.
"We are deeply saddened to announce that Sharon Jones has passed away after a heroic battle against pancreatic cancer," her management said in an official statement, according to NBC News. "She was surrounded by her loved ones, including the Dap-Kings."
Jones was diagnosed with pancreatic cancer in 2013, but the disease had been in remission until last year. At a concert in Arizona two months before her death, Jones spoke about the catharsis performing music afforded her, the Arizona Republic reported.
"When I walk out onstage, whatever pain is gone," she told the crowd at Ak-Chin Pavilion in September in between songs. "You forget about everything. There is no cancer. There is no sickness."
Music had always been a part of Jones' life, beginning with her gospel singing roots as a young girl growing up in South Carolina and Brooklyn, New York, but it wasn't until she was 40 years old that her first single, "Damn It's Hot," was released, in 1996.
According to NBC News, in lieu of flowers, Jones' management is requesting fans to donate to the Lustgarten Foundation, James Brown Family Foundation and Little Kids Rock.
Story originally published on Nov. 25.
Florence Henderson, who is most well-known as Carol Brady on the 1970s sitcom, The Brady Bunch, died Thursday evening, her publicist told the Associated Press. She was 82.
Henderson died from heart failure, her manager Kayla Pressman, told AP.
The Brady Bunch premiered in 1969, with Henderson portraying the matriarch of a blended family. The "lovely lady" was mother to three daughters, Marcia, Jan and Cindy, and she wed Mike Brady, who also had three children, Greg, Peter and Bobby. The show later had several spinoff series including The Brady Bunch Hour, The Brady Brides and The Bradys.
"It represents what people always wanted: a loving family. It's such a gentle, innocent, sweet show, and I guess it proved there's always an audience for that," Henderson said in 1999, according to AP.
Several of Henderson's co-stars flocked to social media to send their condolences and to remember one of America's favorite TV moms.
Barry Williams, who played Greg on the hit sitcom:
Maureen McCormick, who played oldest daughter Marcia Brady:
Niecy Nash, who competed on Dancing With the Stars with Henderson:
Henderson was born on Feb. 14, 1934, in Dale, Indiana. When she was 19, she landed a small role in the play, Wish You Were Here. She became the lead in a road tour of Richard Rodgers and Oscar Hammerstein's Oklahoma! She continued in the role in the show's Broadway revival in 1954. She also had roles in productions of The Sound of Music, South Pacific, The King and I and The Girl Who Came to Supper.
After The Brady Bunch, she had several appearances on other TV shows including Hart to Hart, Fantasy Island, The Love Boat, Roseanne and Ally McBeal. 
In 2010, she competed on dance competition series Dancing With the Stars, and was the fifth contestant to be eliminated. Henderson's last public appearance was on Monday, as she was cheering on McCormick, her TV daughter, who competed this season.
Story originally published on Dec. 13.
Canadian actor Alan Thicke, best known for his role as father Jason Seaver on 80's sitcom Growing Pains, died of a heart attack on Tuesday at the age of 69 while playing hockey with one of his sons, the Hollywood Reporter wrote.
According to US Weekly, his last known location was Whistler, British Columbia.
In addition to hosting gigs on several Canadian game shows, Thicke was the host of the short-lived 1983 U.S. talk show Thicke of the Night and recently had a cameo on the Netflix reboot series Fuller House. He was the father of pop singer Robin Thicke of "Blurred Lines" fame, and had two other sons, Brennan and Carter Thicke. Thicke is also survived by his spouse, Tanya Callau.
Thicke also starred in two Growing Pains spinoff films: The Growing Pains Movie and Growing Pains: Return of the Seavers, and was nominated for both a Golden Globe Award and a Daytime Emmy Award.
Story originally published on Dec. 25.
Singer George Michael, born Georgios Kyriacos Panayiotou, has died at the age of 53 in his home in the U.K., the BBC reported on Sunday. "It is with great sadness that we can confirm our beloved son, brother and friend George passed away peacefully at home over the Christmas period," his publicist said in a statement shared by the BBC.
"The family would ask that their privacy be respected at this difficult and emotional time. There will be no further comment at this stage."
Michael was a singer, songwriter and record producer who rose to fame in the 1980s as a member of the group Wham! and went on to have a successful solo career. He sold more than 100 million albums during his decades-long career, the BBC reported.
Police say there are no "suspicious circumstances" regarding the star's death.
Story originally published on Dec. 27.
Actress Carrie Fisher has died at the age of 60, according to E! Online. Billie Lourd, daughter of Fisher, confirmed her mother's death.
Shortly before her death, Fisher reportedly had a major heart attack on a plane from London to Los Angeles, going into cardiac arrest 15 minutes before landing. On Friday afternoon, the Los Angeles Times reported she was in critical condition before her brother told the Associated Press she had been stabilized.
Among Fisher's most memorable roles were, of course, Princess Leia in the original Star Wars trilogy, which she reprised in 2015's Star Wars: The Force Awakens. Fisher also appeared in Shampoo, The Blues Brothers, Hannah and Her Sisters and When Harry Met Sally.
She was the daughter of famous Hollywood couple Debbie Reynolds and Eddie Fisher. 
At the time of her death, she was promoting her autobiography the Princess Diarist, which is her eighth book. 
Story originally published on Dec. 28.
Hollywood legend Debbie Reynolds died at the age of 84 on Wednesday, TMZ reported, after experiencing a stroke.
The celebrity gossip site wrote Reynolds had been distraught since her daughter, Carrie Fisher, died on Tuesday at the age of 60. Reynolds was reportedly at her son's house when she was rushed to the hospital.
Hours before Debbie's death she said, "I miss her so much, I want to be with Carrie," Reynolds' son Todd Fisher said, according to TMZ.
In a November interview with NPR, Fisher said Reynolds had already survived two strokes in 2016.
On Tuesday, Reynolds shared a message of gratitude to her Facebook page.
"Thank you to everyone who has embraced the gifts and talents of my beloved and amazing daughter," she wrote. "I am grateful for your thoughts and prayers that are now guiding her to her next stop."