'Pokémon Go' first partner event: New Year's loading screen update revealed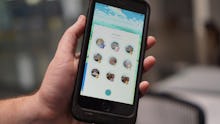 As promised, Pokémon Go's first partner update has arrived. Niantic's New Year's event is officially live, bringing a new festive loading screen, increased spans for starter Pokémon and more.
Pokémon Go increased first partners: Update brings extra starter spawns
The final Pokémon Go event of the year began on Friday, Dec. 30 and lasts through Jan. 8. The update will bring increased spawns for the first partner Pokémon available in the original games — that's Squirtle, Bulbasaur and Charmander. It also increases the chances you'll run into one of their evolved forms, including Ivysaur, Venusaur, Charmeleon, Charizard, Wartortle and Blastoise!
Additionally, the New Year's event means Lure Modules will last longer than usual. Instead of just 30 minutes, each item will attract wild Pokémon for a full hour.
More Pokémon Go news, tips, tricks and updates
If you're ready to celebrate your Pokémon Go holiday, you may also want to check out Mic's other Pokémon Go content. Here are guides on how to catch Gen 2 baby Pokémon, the 98 Gen 2 Pokémon that have yet to be added to the game, how to catch Pikachu and his adorable new Christmas hat, our analysis of post-update Chansey and Rhydon, everything you need to know about finding the long-awaited Pokémon Ditto, how to create new PokéStops, how to maximize your chances of catching Pokémon and how PokéStops distribute Pokémon eggs.