Bill Cosby's legal team has filed for a change of venue in his sexual assault case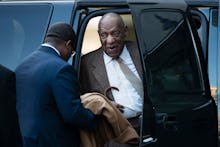 Lawyers for comedian Bill Cosby have filed a motion for a change of venue in Cosby's trial for sexual assault, ABC News reported on Friday. Cosby's lawyer, Brian McMonagle, reportedly cited the media coverage of the case in his petition, arguing the coverage has unfairly biased a potential jury against Cosby.
"It is difficult to conceive of a case in recent history that has generated more widespread, inflammatory and sustained media coverage than the current case against Mr. Cosby," the motion reads, according to ABC News, which obtained the documents. "Prospective jurors in Montgomery County have been uniquely subjected to extensive, sustained and pervasive negative coverage of the case."
The trial is scheduled to take place in Montgomery County, Pennsylvania. Cosy, 79, is facing charges of felony aggravated indecent assault for an incident which took place in 2004. 
Andrea Constand, a former Temple University employee, has said Cosby invited her to his home, gave her pills and alcohol and then sexually assaulted her, ABC News reported. Cosby has pled not guilty to the charges.
Constand settled a civil case against Cosby in 2006, but in 2015, Montgomery County District Attorney Kevin Steele decided to bring criminal charges against the former television star.
To date, more than 50 women have accused Cosby of drugging them, sexually assaulting them or both.