More Americans are applying to college in Canada after Trump's win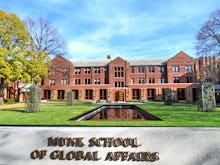 Applications from Americans hoping to head north for college are way up following the November election, the Associated Press reported on Friday. Part of the surge may be a result of increased recruiting in the U.S., representatives from some Canadian schools told the AP, but some say the impending inauguration of President-elect Donald Trump has fueled the jump in interest.
American applications to the University of Toronto are up 70% compared to the same time last year, the AP reported, and that wasn't the only Canadian school to report a noticeable increase. 
"Several other Canadian schools" have seen their applications from Americans go up this year by at least 20%, the AP noted, including McMaster University in Hamilton, Ontario, where applications from the U.S. are up 34%.
Seventeen-year-old Laura Godoff of Napa, California, told the AP Trump's victory drove her decision to apply to at least four Canadian schools, citing fears that a Trump administration could roll back progress on fighting sexual assault, making campuses less safe for women.
"If we live in a country where so many people could elect Donald Trump, then that's not a country I want to live in," she told the AP.
But some say, while the election may be a factor, it's not the only thing driving young people in the U.S. to look northward for college.
"We can't ignore the election results, but I think there are other strengths that are attracting students to the university, as well," Jennifer Peterman, a senior manager of global undergraduate recruitment at Montreal's McGill University, told the AP, citing the cost of living in Canada and McGill's diversity.
McGill has "consistently" had the largest share of U.S. students who come to Canada for college, Time reported in January. But thousands of United States students attend schools across Canada, for lots of different reasons.
"I wanted to try living somewhere more politically and socially liberal after growing up in Tennessee," Catherine Payzant, 21, a Canadian citizen who grew up in Tennessee and chose to go to college in Canada told Time. "It came down to the opportunity to live somewhere far away from home, pay the same fees, and get to know some family I had grown up living far away from."
But it still remains to be seen whether or not the Trump years will see a massive increase in Americans heading across the northern border for school.