At least 39 dead in armed attack at a nightclub in Istanbul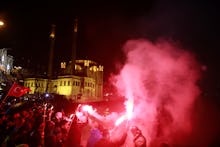 At least 39 people died in an attack at a nightclub in Istanbul, Turkey's interior minister said.
A gunman dressed in a Santa Claus suit entered Reina, a well-known nightclub on the banks of the Bosphorus, and opened fire during New Year's Eve celebrations, CNN Turk reported.
An additional 70 people were injured, Istanbul Gov. Vasip Sahin said in a statement. The governor characterized the incident as a terrorist attack, the Associated Press reported.
Sixteen foreigners were among those who lost their lives.
The attack occurred at approximately 1:30 a.m. on New Year's Day in the Ortoköy neighborhood of Istanbul. The shooter allegedly yelled in Arabic during the attack, Turkish newspaper Hürriyet reported.
The nightclub was packed with hundreds of people, and the BBC reported that some of the revelers jumped into the Bosphorus river to escape.
President Barack Obama, on vacation in Hawaii, was one of the first heads of state to speak about the attack.
"The president expressed condolences for the innocent lives lost, directed his team to offer appropriate assistance to the Turkish authorities, as necessary, and keep him updated as warranted," White House spokesman Eric Schultz said in a statement.
Turkey has been on high alert in recent months. On Dec. 19, the Russian ambassador to Turkey, Andrei Karlov, was assassinated by an off-duty Turkish policeman at an art gallery in Ankara. The killer claimed that the murder was in revenge for Russia's role in the Syrian conflict.  
On Dec. 10, a twin bomb attack near a football stadium in Istanbul killed 44 people, an attack for which a Kurdish military group claimed responsibility.
Additionally, on June 28, a gun and bomb attack at Ataturk Airport in Istanbul killed 41 people. The Islamic State was blamed for that incident. 
This story is developing and will be updated.