Queen Elizabeth's health raises concerns as royal misses traditional New Year's mass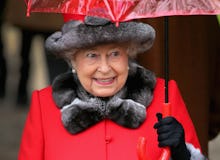 Queen Elizabeth II missed the United Kingdom's traditional New Year's mass service on Sunday to recuperate from a cold, the Associated Press reports.
"Her Majesty the Queen will not attend Sunday worship at Sandringham today," a Buckingham Palace spokesman said. "The Queen does not yet feel ready to attend church as she is still recuperating from a heavy cold." 
The reports come after the queen missed the Christmas mass service for the first time in 28 years. The 90-year-old monarch and her husband Prince Philip, 95, have been reportedly battling a cold before the Christmas holiday. According to the Telegraph, the queen and the prince have been staying at the royal family's estate in Sandringham County, Norfolk. The prince attended the New Year's mass on Sunday.
The queen, who has not been seen in the public eye for about 11 days, has been the latest target of celebrity death hoaxes. On Thursday, a fake BBC news site tweeted that the queen had died from unknown circumstances. On Friday, however, BBC reporter Rory Cellan-Jones quelled circulating rumors of the queen's death.
On Sunday, a Sky News royal correspondent also said there is "no sense of alarm" or "undue concern" regarding the queen's health.