Even Mariah Carey thinks her performance is the train wreck it was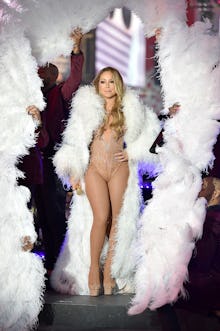 2016 took one more casualty before the clock struck midnight: Mariah Carey's New Year's Eve performance. 
Carey's final performance for ABC's Dick Clark's New Year's Rockin' Eve with Ryan Seacrest was destroyed with constant technical malfunctions. The diva of all divas successfully sang her rendition of "Auld Lang Syne" without a hiccup. But it was her next song, "Emotions," that started a whole whirlwind of disasters.
From the beginning of "Emotions,"  Carey had technical difficulties. With two background dancers in tow, Carey was heard saying "we can't hear," hinting she was waiting for technical team's green light before performing. 
The background dancers continued to dance while Carey, frustrated by the malfunction, stopped singing. Carey walked around the stage and told the audience to sing along to the lyrics. The singer also offered a few explanations to the crowd about the botched performance.
"We didn't have a sound check, but it's New Year's, baby," Carey told the crowd. 
"I want a holiday, too, can I not have one? I'm trying to be a good sport here," Carey added.
Her performance of "We Belong Together," one of her more popular hits, went more smoothly — mainly because she was lip-syncing. She admitted this. "This is the album version," Carey said. 
Throughout some moments of the song, however, Carey didn't move her lips or attempt to sync with the vocals on the track.
Soon enough, Carey left the stage and was heard saying, "It just don't get any better."  
Twitter users were quick to poke fun at Carey's fumbling performance.
Fortunately, Carey seemed to recover from the public nightmare overnight.
But let's be honest, Mariah Carey's worst failure is still probably better than any of our greatest achievements.