Vandals broke the famous 'Hollywood' sign last night and made it say 'Hollyweed'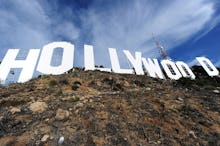 2017 is already lit. Los Angeles residents woke up to the famed Hollywood sign looking a bit greener, now reading "Hollyweed."
On Sunday, around midnight, a prankster climbed up Mount Lee and vandalized the Hollywood landmark. According to the Los Angeles Police Department, unreleased surveillance footage revealed that an unidentified person climbed the block letters and changed the "O's" into "E's" with two tarps. The LAPD is now investigating the prank as a trespassing incident, CNBC reports.
Apparently, for some Twitter users, weed does make the world (or year) better:
The timing of the "Hollyweed" prank is not incidental: Recreational marijuana became legal in California on Sunday after voters approved Proposition 64, or the Adult Use of Marijuana Act, in November.
Surprisingly, this isn't the first time the iconic sign has been changed to "Hollyweed." On New Year's Day in 1976, the day California loosened marijuana laws in the state, another prankster pulled the same stunt. The prankster, Cal State Northridge art student Danny Finegood, earned an A for executing the weed joke for a class project. 
The prank didn't stop there for Finegood. After the "Hollyweed" prank, he changed the sign back to facetious misspellings like "Holywood" or "Ollywood." Fortunately for him, Finegood was never charged with a crime. He did, however, force city officials to amp up their security detail for the historic landmark.