Text someone 'Happy New Year' on iOS 10 and something amazing happens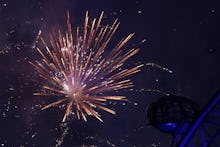 If you missed out on fireworks this weekend, here's your chance to see them again — on your iPhone.
On Saturday, Reddit user Funkyfreshh found out that if you text "Happy New Year!" using the iMessage app, your iPhone screen lights up with colorful fireworks.
How can you do it? It's simple, really. First, make sure you updated your iPhone to iOS 10, the latest operating system. Then open up iMessage and text "Happy New Year!" to someone. You should be able to see your iPhone screen fade to black with fireworks bursting in the iMessage app.
This screen effect also works when sending a SMS message. This means that you can still see the fireworks when sending a text to someone who doesn't use an iPhone. Unfortunately, they won't be able to see the cool fireworks effect on their screen. This screen effect also doesn't work when sending or receiving texts through iMessage on a Mac.
The fireworks are a part of iOS 10's five screen effects (confetti, balloon, lasers, shooting stars and fireworks) in their iMessage app.
There are other keywords or greetings that will prompt screen effects. For example, texting "Congratulations!" will prompt confetti and "Happy Birthday!" with balloons.
This is also the case for texting "Happy Chinese New Year!" The screen turns to a brownish black with the text bubble of "Happy Chinese New Year" becoming red and its font color yellow. 
So, if you didn't get to enjoy ringing in the new year with friends or family members either due to work, distance or other circumstances, here is a small gesture that can mean a whole lot to the people you love. This is just one beautiful example of technology, once again, bringing people miles apart together in a colorful and creative way.