Dakota Access pipeline protestors unfurl gigantic "DIVEST" banner during Vikings game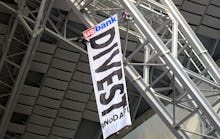 During a New Year's Day football game between the Minnesota Vikings and Chicago Bears, two protestors posted a gigantic banner urging U.S. Bank to divest from the Dakota Access pipeline at the U.S. Bank Stadium in Minneapolis.
The protestors, Sen Holiday and Karl Zimmermann, used ropes and harnesses to post the banner. They are also seen dangling from the banner that it hung from the ceiling of the football stadium. Zimmermann is wearing a Brett Farve (No. 33) jersey.
A press release for the two protestors stated that the impetus for the activism stunt was the U.S. bank's "$175 million in credit lines to Energy Transfer Partners." 
"Today, January 1st, marks the original deadline for the completion of the pipeline," The statement read. "Today, the pipeline is still incomplete. Investors have the right to withdraw business contracts from the project, and we urge them to do so."
Energy Transfer Partners was the company leading the proposed construction for the 1,172 mile-long pipeline originally routed from Illinois upstream to sacred Native American reservation lands in North Dakota. The pipeline would carry 470,000 to 570,000 barrels of crude oil per day. On Dec. 4, the Army Corps of Engineers halted the construction and announced they will be looking to seek alternative routes for the pipeline. 
The banner quickly got the attention of social media users:
According to Twin Cities Pioneer Press, SMG, the company managing the U.S. Bank Stadium, stated they dispatched police and fire departments to ensure the safety of the fans and protestors.
"Two individuals appear to have climbed over a guard rail to access the ridge truss," the statement read. "We immediately dispatched on site Minneapolis police and fire departments to the scene and cleared the seating section below. We are working with all stadium partners, and our primary focus is on the safety of the fans and these two individuals. Officials are actively working to get them down safely. We will continue to update media on the situation."
While climbing up to the top of a football stadium is certainly dangerous, Zimmerman told Pioneer Press reporter Brian Murphy that it wasn't as dangerous as the damaging effect the pipeline can have on people using the Missouri River for water supply.
"It's not as dangerous as for the communities of Standing Rock and those of the Missouri River," Zimmerman said. 
"Desperate times call for desperate measures."