A store in New Mexico posted racist "Kill Obama," "Muslims Not Welcome" signs on windows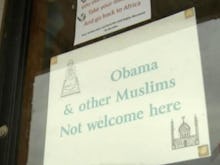 A convenience store in New Mexico is facing backlash for a series of offensive and racist signs posted on their storefront windows. 
The Mayhill Convenience Store in Mayhill, New Mexico, displayed these signs for years, according to the Independent. Most of these signs are targeted towards President Barack Obama, Muslims, Hillary Clinton and Colin Kaepernick.
One of the signs read "Kill Obama" and another says "Obama & Muslims not welcome here." The signs also include racially-tinged epithets and slurs with one reading "2012 No Re-nig." A sign aimed at NFL player Colin Kaepernick, who has protested and been outspoken about police brutality against black people, called the San Francisco 49ers quarterback an "overpaid half breed" and said he should "go back to Africa."
"Colin Kaeper-dick, you overpaid half-breed: Take your millions and go back to Africa," the sign read.
The convenience store also allegedly sells toilet paper with Obama's face on it. 
"It's been here a long time," Marlon McWilliams, a former employee for the store told KOB 4. "If you go in there and you offend him, you can't go in there no more. He turns lots of people away."
The store is reportedly up for sale for $359,000.
Facebook users have been criticizing the store owner's racist posters and community members have urged others to write negative reviews for the store.
One Facebook user wrote in a review for the store's Facebook page that while the owner does have a right to free speech, he does not have the right to discriminate against patrons.
"This douchebag racist xenophobe certainly does have a right to free speech but he does NOT have a right to discriminate," EllenBeth Wachs wrote on her review. "He doesn't get to pick and choose who his customers are."
"I certainly hope a muslim sues him for discrimination," Wachs added.
One Facebook user, Meg Walker, defended the store owner's racist signs claiming he has the right to say racist views even if she disagreed with him. She gave the establishment a five star rating.
The Council of American-Islamic Relations, the largest Muslim civil rights advocacy group, issued a statement on Saturday based on the store's offensive and racist signs.
"While everyone has the First Amendment right to free speech – even offensive speech – we urge the store's owner to remove the sign in the interest of common decency and of our nation's unity at a time of increasing divisions," Ibrahim Hooper, national communications director, said.
The store owner could not be reached for comment.