Istanbul Nightclub Attack: ISIS claims responsibility for New Year's massacre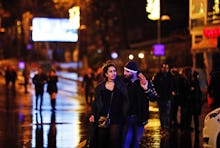 One day after a gunman dressed in a Santa Claus costume opened fire inside a crowded Istanbul nightclub during New Year's Eve celebrations, killing 39 people, the Islamic State group has claimed responsibility for the attack, according to CNN. 
"In continuation of the blessed operations which ISIS carries out against Turkey, a soldier of the brave caliphate attacked one of the most popular nightclubs while Christians were celebrating their holiday," the terror group posted on Twitter, CNN reported. 
ISIS also issued a warning to Turkey — apparently in reference to the ongoing crisis in Syria — in the statement, saying "the government of Turkey should know that the blood of Muslims, which it is targeting with its planes and its guns, will cause a fire in its home by God's will," the New York Times reported.
According to the Times, United States intelligence officials warned of a possible threat on Dec. 22, stating that there were "aggressive efforts" to carry out attacks in Turkey.
Although eight arrests in connection to the attack have been made, the gunman is still believed to be at large, the BBC reported.
Turkey has been a target for terrorist attacks in recent months. In December, a twin bombing near Istanbul's Besiktas Stadium killed 38 people, mostly police officers.