Where is the Trump inauguration? Location, time and where to watch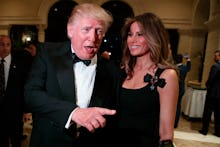 While the road to Donald Trump's presidential inauguration has been a bumpy one – with a litany of performers backing out, quitting or expressing embarrassment at being forced to perform – that road is soon coming to an end. At 12 p.m. Eastern on Jan. 20, Trump will take the oath of office and be formally inaugurated as the 45th president of the United States.
Trump's presidential inauguration ceremony will occur on the west front of the U.S. Capitol building in Washington D.C. Tickets for the swearing-in ceremony are free and distributed by state Senate and House offices, but be warned: a number of offices stopped taking ticket requests back in early December. Tickets are only required for certain areas along the parade route and for entry to the swearing-in ceremony, but it might be a tight squeeze — Christopher T. Geldart, the director of Homeland Security for Washington D.C. estimates there will be 800,000 to 900,000 people in attendance (protestors included).
If you can't watch the inauguration in-person, don't sweat it. Tech site Lifewire reports that every major news site will be covering the presidential inauguration either online, on your TV, or both. CNN, CSPAN, MSNBC and Fox typically provide coverage of the swearing-in and inaugural speech on TV. 
Twitter hasn't formally announced plans to livestream the inauguration, but you can keep up to date and join the conversation using hashtag #Inauguration or following Trump's inaugural committee updates here.