President Obama Farewell Address: When and where to watch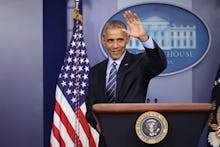 President Obama released a statement early Monday to announce his presidential farewell address. Obama stated that he will give his "grateful farewell" in his hometown of Chicago on Tuesday, Jan. 10. In the statement, Obama noted that George Washington was the first to write a farewell address and that, "over the 220 years since, many American presidents have followed his lead."
Obama stated that he's only just started writing his address, but that he plans to use it "as a chance to say thank you for this amazing journey, to celebrate the ways you've changed this country for the better these past eight years, and to offer some thoughts on where we all go from here."
Since 2009, we've faced our fair share of challenges, and come through them stronger. That's because we have never let go of a belief that has guided us ever since our founding – our conviction that, together, we can change this country for the better.
The address will be available to watch live here or on the White House's Facebook page. The time of Obama's farewell address has not yet been set, but the White House information page for attending the address tells attendees to arrive at McCormick Place in Chicago before 5pm CST and encourages viewers to live-tweet the speech using the hashtag #YesWeCan.
Traditional news outlets like CNN, Fox, MSNBC, and CSPAN typically cover presidential announcements and speeches and will likely release information on how to watch the address through their services in the coming days.
If you'd like to attend Obama's farewell address, free tickets (one per person) will be made available on a first come, first serve basis at McCormick Place in Chicago on Saturday, Jan. 7.