Sonny Perdue: 4 things to know about Trump's leading candidate for agriculture secretary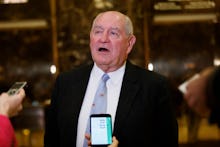 According to Reuters, a source familiar with Donald Trump's presidential transition team has confirmed that former Georgia Gov. Sonny Perdue is Trump's leading pick for secretary of agriculture.
Perdue's Bloomberg stock profile notes that while serving as a state senator, Perdue was "recognized as a leading authority on numerous issues including agriculture, transportation, emerging technologies and economic development." The secretary of agriculture oversees the U.S. Forest Service and the U.S. Department of Agriculture – which includes SNAP and WIC programs — or "food stamps" — and the Food Safety and Inspection Service.
As Politico notes, Perdue's experience in office could make for an easier confirmation process than some of Trump's other nominations like Exxon CEO Rex Tillerson and retired neurosurgeon Ben Carson who have never held public office. However, the source who confirmed the choice told reporters that the decision isn't final.
Perdue has held public office positions since 1991 – but switched parties in 1998.
Perdue ran for the Georgia Senate in 1990 after serving on the Houston County Planning and Zoning Board. Following three consecutive terms in the Georgia Senate, Perdue switched his party affiliation in 1998 from Democrat to Republican. He was re-elected as a Republican in 1998 and again in 2000.
In 2001, Perdue resigned from his Senate position to run for governor. He won, becoming the first Republican governor of Georgia in over 130 years. After serving two terms – the constitutional maximum for a governor in Georgia – Perdue's governorship came to an end in 2010.
As governor, Perdue held a prayer vigil for rain
During his time as governor, the state of Georgia faced a severe drought that still persists today. After lawsuits and new laws restricting water use failed to bring the rain, Perdue made a last ditch effort to rally Georgians together. In 2007, Perdue held a vigil outside the Georgia state capitol in Atlanta to pray for rain. "We've come together here simply for one reason and one reason only: To very reverently and respectfully pray up a storm," Perdue said.
While Georgia's drought woes still persist nearly a decade later, a little good news followed the vigil at the time: the Farmer's Almanac reported Atlanta received .28 inches of precipitation two days after the vigil.
Perdue's governorship helped Georgia SAT scores rise from 50th in the country
Perdue's biography notes that during his first term, Georgia saw "the highest graduation rate and SAT scores in state history." The SAT scores prior to Perdue's governorship in 2001 were ranked the lowest in the country.
According to a Savannah Morning News piece written in 2006, Perdue "beamed" as he announced that Georgia's SAT scores that year had advanced above Florida, Hawaii, Pennsylvania, and South Carolina. Georgia and South Carolina had tied for last place in the year before.
Georgia's SAT scores currently rank 36th in the nation, per a report by the Georgia department of education.
While in office, Perdue appointed three people to state positions – including his cousin – then founded a business with them after leaving office
As governor, Perdue appointed three people to state positions: Trey Childress, Heidi Green, and his cousin/CEO of Dollar General, David Perdue.
After leaving office, Sonny Perdue founded Perdue Partners LLC with Childress, Green and David Perdue. The company's LinkedIn page says its "chief aim is to bring intrinsic value to our investments" as well as "engagements with a well-defined strategic vision, informed analysis, experienced management and seasoned judgment."
David Perdue's position in the Georgia Port Authority was called into question for its potential conflict of interest because companies Perdue Partners work with could potentially use the Port of Savannah, but David Perdue insisted that would not be the case:
As a Fortune 500 CEO, I was also on several public boards at the same time, which is a direct analogy to this, and we learn very early when you are dealing with public companies you have to make sure you are aware of any potential conflict of interest and we'll do the same thing here.
In 2012, Perdue Partners acquired Atlanta-based "less than truckload" (LTL) carrier Benton Express, which was founded in the 1930s. After the acquisition, Trey Childress was named Benton Express's president. Perdue Partners changed the company's name to Benton Global, and Benton Global promptly filed for bankruptcy and closed in 2015 – the same time that the top 25 LTL fleets saw a 9.1% increase in revenue.