Gospel singer Kim Burrell blasted for homophobic rant ahead of 'Ellen' appearance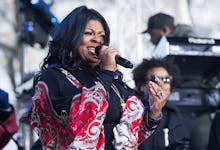 Gospel singer Kim Burrell will no longer be performing alongside Pharrell Williams on The Ellen Degeneres Show after video of a homophobic sermon she led went viral. 
In footage of the sermon posted on YouTube, Burrell refers to homosexuality as the "spirit of delusion and confusion":
That perverted homosexual spirit, and the spirit of delusion and confusion, it has deceived many men and women, and it's caused us pain on the body of Christ.
It is unclear exactly when the sermon took place. Burrell, who is slated to perform "I See Victory," a song from the Hidden Figures soundtrack, on Ellen, attempted to clarify her comments, saying she never mentioned LGBTQ people specifically. 
"I love you and God loves you," Burrell said in a Facebook live video, Billboard reported. "But, God hates the sin." 
DeGeneres tweeted from her show's account Tuesday afternoon, confirming that Burrell would no longer be appearing on the show.
Many had taken to Twitter, calling on Degeneres to cancel Burrell's appearance on the show.
Pharrell posted a statement on Instagram, although Burrell was never mentioned specifically.
Jan. 3, 2016 4:21 p.m.: This story has been updated.